3rd February Fundraising at ASDA Shipley
A big thank you to Sylvia and Glenys for organising a successful day in Shipley. A total of £171 was kindly donated along with a trolley piled high with food. Many thanks to ASDA staff, management and customers.
2016 Fundraising and re-homing
We raised a whopping £7,524 last year with fundraising events. Majority of that money was spent on paying our ever increasing vet bill and the rest was spent on medication, flea and worming products, food and cat litter.
We have successfully re-homed 101 cats this year and a few more reserved that will be going to their forever homes in the next few days .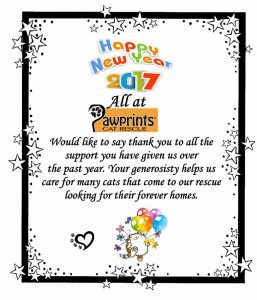 We can not thank you all enough. Without your kindness and continued support this would not have been possible.
The best new years news ever!!!!!!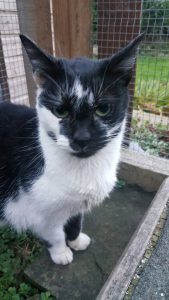 Our beautiful Keely who has been with us 2 1/2 years has finally got her purrfect furever home! We are so pleased for her, she did her mummy duties & was overlooked for so long but her new mummy fell for her & she so deserves it! Live a long & happy life sweet girl.
FABULOUS CHRISTMAS DONATIONS
A big SHOUT OUT to our fab supporters 'The Flowerdays'. Instead of buying each other Christmas gifts this year they decided to donate the money for much needed supplies at the rescue . To their lovely neighbour who sadly lost their beautiful Fluffy for donating his blankets to help keep our kitties warm, Fluffy would be so proud. Another shout out to the lovely Jan for the big box of dreamies & lovely Pam for her generous donation. We really do have the best supporters.
Big thank you from Tommy & all the other rescue kitties to Uncle Steve Holmes & Uncle David and Julie Thewliss for making generous donations to help towards our vet bill over what has been a very busy vet period! Also thanks to Sylvia & Ray who continue to send a monthly donation to help the kitties.
CADENCE FINDS A HOME!
Some fantastic news. The lovely Cadence finally got her purrfect furever home yesterday after a year & a half at the rescue! We are over the moon for her after been overlooked for so long. Have a long & happy life Cadence.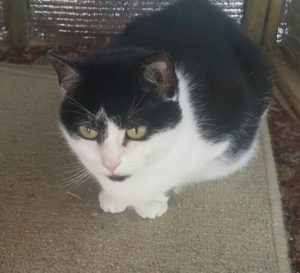 PAWPRINTS TO THE RESCUE!!!
These poor babies were rescued from a house eviction a couple of weeks ago. There are 5 in total, all full of cat flu & in a horrible state. So far two of them have spent over a week at the vets which puts a big strain on our already huge vet bill but we will do everything we can to get them well & into loving homes. We have named them (Saint) Nick, Noel, Santa, Ivy & Tinsel who is still at the vets . We will keep you updated on their progress.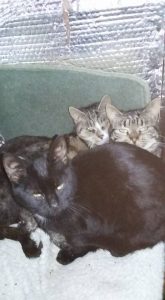 CHRISTMAS FAYRE – FAIRWEATHER GREEN EVENTS HALL Saturday 26th November

We raised a whopping **£528** at our Christmas Fayre yesterday. Thank you to all that came to support us to make this possible and thank you for the food/ treat/ toy donations for the puss cats at the rescue. We would like to take this opportunity to thank Debbie and Beckie who worked tirelessly on planning the event and also thank you to the lovely volunteers Amie, Sylvia, Ray, Richard, Christine, Toni, Rachael, Paula, Harrison and family, Melissa and Kyle who helped with the stalls / games/ delivering leaflets. A massive thank you to the bakers too Debbie, Amie, Kate and Janet.
The money raised will pay off some of our vet bill along with the £843 raised at the Night of Mediumship. So a total of £1,371 to be paid at Gatehouse Vets next week. Our vet bill currently stands at £5,385!
B & M Shipley BLACK FRIDAY EVENT 25th November
A big thank you to Diane, Store Manager for the very generous donations for our tombola.
Thank you to B & M for allowing us to take part in the Black Friday Event – we raised £56 and customers donated 3 boxes of food.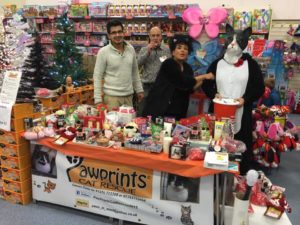 Night of Mediumship with Sarah Melanie Fuller – Thursday 24th November 
We raised a whopping £843 at the event. A super huge thank you to Sarah Fuller for making this possible and also thank you to all that came to make it a success. This money will be going to pay towards our vet bill.
All at Paw Prints would like to say a super huge thank you to Vera Fletcher (Vera's Delights Bakery) for baking these stunning cupcakes and cake for our raffle and also thank you for the gorgeous raffle prize too. It is greatly appreciated, thank you so much.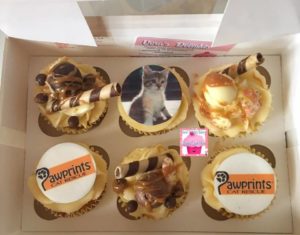 FOOD DONATION!
Massive, massive thanks to Tracey Rodgers and to Adam Hickson at C&D Foods for this incredible donation of cat food for PawPrints.
Tracey works for our Goods In team at XPO Logistics in Bradford, and she decided to ask Adam if C&D Foods would consider donating towards our Charity of the Year… we're absolutely bowled over by the response!
There are around 45 rumbling furry tummies at PawPrints that will be delighted when this little lot arrives over the next few days!
Thanks again, to Tracey, to Adam and everyone at C&D Foods for their incredible generosity!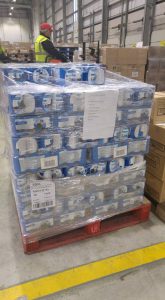 XPO SOCIAL CLUB FOOD DONATION
Pawprints want to say a big thank you to Carlos & his amazing colleagues from the XPO Social Club for their donation to help feed our kitties. Big thank you also going out to Wiktoria, Shelly, Janine & their partners for their donations they kindly brought today. We were just about to do an appeal as we weren't sure if we would manage to feed the cats this month but thanks to you lovely supporters we will be able to for at least the next couple of weeks. We currently have 40 cats in our care at the rescue and more in foster care. We really appreciate the support.
HELP US TO FIND SPENCER'S OWNERS!! 
*FOUND* We are still trying to track down this gorgeous boy's owner
😔 Lorry movements that day should he have been a stowaway have now been confirmed as Chapeltown in Sheffield, Long Eaton (Near Nottingham) & Felixstowe so we are sharing to any groups from there but still could be from anywhere. He was wearing a blue plastic flea collar. Please share far & wide, he really wants to go home!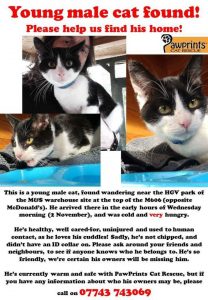 Tombola & Bucket Collection at Morrisons, Girlington 23rd October
We raised a fabulous £147 on the tombola and £122 bucket "rattling" making a total of £269. Customers also donated much needed cat food – many thanks to everyone!
Bag packing and bucket collection at Tesco's, Canal Road on 22nd October
Our brilliant volunteers helped to raise £162 and customers also  generously donated cat food.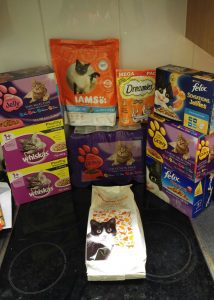 FUNDRAISING AT B&M BAILDON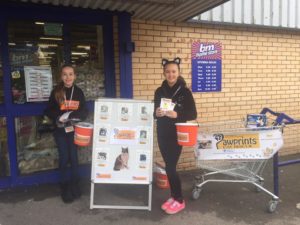 Thank you to the store for letting us fund raise on Saturday 8th and 15th October. Thank you to all the customers who donated cat food and donated money to help us with our ever increasing vet bill .
KITTY CUDDLES & CAKE!
Thank you to everyone who came to cuddle a cat and to eat some cake! We raised £150 on the day and the cats enjoyed the extra attention.
A FABULOUS DAY AT SALTAIRE FESTIVAL!
A fantastic day at Saltaire Festival on Saturday 17th September, meeting some lovely people! A big thank you to all those who donated tombola items & teddies & a big thank you to those who came to visit today. Together you helped us raise a fantastic £367.66! This will be going straight towards our £5k vet bill, thank you all!
NEW GAZEBO!!
All at Paw Prints would like to say a super BIG thank you to Rachael at Toyosports (UK) Ltd for donating this fabulous Gazebo for the rescue to use at future events, it is greatly appreciated.
CATHY & FRIENDS COMPLETE THE GREAT NORTH RUN RAISING FUNDS FOR PAWPRINTS
Even Ricky Wilson from the Kaiser Chiefs was out to support Pawprints at the Great North Run recently. Well done to  Cathy, the mad cows & also to our other volunteer Kate running for another great charity FOP Friends. A big "thank you" to David Derbridge and Katharine Barnett and everyone else for sponsoring Cathy.
Another special "thank you" to Katharine Barnett, her mum and Fuel Storage Solutions. Katharine ran the Great North Run with Cathy and she also contributes to the rescue by sharing news about the Rescue and sourcing items for tombolas.
MEET "NOODLES"
She was dumped in a box next to the bins of one of our lovely volunteers / fosterer recently. We have no idea how long she had been there as our volunteer / fosterer was out for most of the day. Noodles is approx 8 weeks old and very sweet and affectionate and loves to be cuddled and has the sweetest purr ever. Update! Noodles has now gone to her forever home!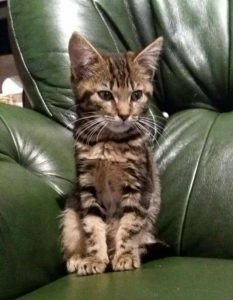 ANAKIN LEAVES THE VETS!!
*Anakin* This is the beautiful Anna's only surviving baby. This little boy is a fighter after losing his mummy & siblings. He is approx 5 weeks old & has now mastered the weening food & kitten milk. He's with one of our lovely fosterers where he will have the best chance possible. Keep your paws crossed for this little boy 💚
COCO & POPS FOREVER HOMED!!
*BREAKING NEWS* The gorgeous Coco & Pops have finally got their purrfect home after almost 18 months at the rescue!!! We are all over the moon for them!!! Have a long and happy life with your fab new family. Here they are with one of their lovely new owners x x