It's been a super busy week at the rescue! We have welcomed a TON of new arrivals and we have lots more waiting to come in! Here are our updates from the week.
STELLA!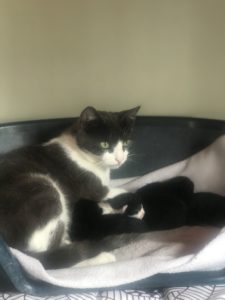 First things first. Big congratulations to Stella for safely delivering 5 kittens on Saturday. This beautiful girl was found living in a garage with 2 of her 5 month old feral kittens. When we trapped her we noticed she was heavily pregnant. Her 2 feral kittens have gone into foster care for socialising before they can be re homed. Mum and babies are doing very well so far. Needless to say this will be Stella's last litter! She will be spayed as soon as she is done feeding her kittens and will be looking for her forever home. If you are interested in adopting this fussy madam then you are welcome to come meet her and even reserve her, but please be aware she will not be able to leave the rescue for another couple of months at least due to mummy duties.
NEW ARRIVALS
We would like to give a big Pawprints welcome to the handsome Salem, Smudge and another Cheeky Monkey who is yet to be named. Cheeky monkey was handed to us after he was found wandering in the BD7 area of Bradford with no chip. Since no one has come forward to claim him he is still here and has already been reserved! His new humans are currently thinking up new names for him. Salem came to us this week too. A lovely friendly boy, he was handed in to our vets, White Cross, as a stray with no chip. We are still searching for owners but so far no one has come forward. He will be up for adoption very soon! Smudge our latest lively resident came to us after her owner no longer wanted her and dumped her on a friend, who brought her to the rescue.
We would also like to welcome back Diesel. Diesel is a semi feral cat who came to us from another rescue after the rescue owner sadly passed away. He was home via Cats Protection to someone who we thought understood his needs. Unfortunately we were wrong and she tried to have Diesel put to sleep because he was too much of a problem! We were of course horrified by this, as we know Diesel needs patience and that his semi feral ways are down to having what we believe to be an abusive past. Diesel is settling back well into rescue life and will be with us until a better human can be found for him. We will get a picture of this handsome man very soon!
PAPPU AND SIBLINGS
In other news the beautiful Rani has been rescued from the BD3 colony and now joins his brother Pappu in foster care. The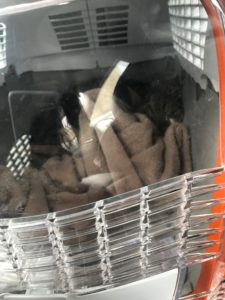 handsome Sherri will (hopefully) joining them soon. We are currently trying to get these boys onto a waiting list for other rescues as we are absolutely bursting at the seems here! All of our emergency pop up holding pens are full. We have had to resort to setting up a makeshift pen in one of our volunteers converted garage just so we could save Diesel! We are however paying for their life saving treatment which is set to cost us over £500! If you could help us save Pappu and his siblings we have set up a go fund me campaign to help them. Please consider donating to Pappu and his siblings if you can, or you can donate via our PayPal to paws_in_need@yahoo.co.uk
WE'VE HAD A MAKE OVER!
Everyone at Pawprints would like to give a huge thank you to Yorkshire Bank. They sent a star team of volunteers to help tidy up the rescue's garden, as part of their community projects! The whole team spent the day working on our very overgrown garden and we are over the moon with what they have done. Head of Pawprints Cat Roxy has already given it her seal of approval.