It's been another busy month a Pawprints Cat Rescue. We have been absolutely packed full with cats and kittens and the volunteers here have been working hard to make sure we can accommodate as many as we can and get them into their forever homes.
Here are some updates on the lives of our residents.
BYE BABY LYRA (now Phoebe)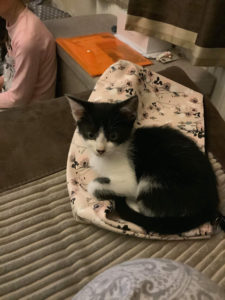 The beautiful baby Lyra (now Phoebe) is the first of Stella's kittens to go to her new home. This little one is now 12 weeks old and already causing kitten chaos in her new home. She's been happily climbing curtains, running around the house and 'helping' her new mummy crochet! Have a wonderful life Phoebe. We will miss you sooo much! x
EVEN MORE GOODBYES
Phoebe is not the only one going off into the sunset! Pebble, Pixie, Gizmo, Apollo, Sniffs, Marlon, Ginge and Gypsy have all gone off to their forever homes. In fact Gypsy and Ginge became failed fosters! (meaning their foster mum is keeping them forever) so they are very lucky kittens! Bye bye everyone have wonderful lives x
NEW ARRIVALS
Of course as we wave goodbye to our residents we have lots of newbies arriving to take their place. We would like to welcome Millie, Bruce, Willow, Annabelle and Freddie into our PP family! Millie is already reserved! Annabelle is now also reserved after coming to us very poorly and later aborting 5 kittens, she's had a tough time of it, but with lots of care and vet trips, she's now on the mend and has a lovely new home lined up for when she's signed off by our vets. Willow and Bruce have both come to us after they were found wandering the streets, in fact Bruce was trying to gatecrash the house of one of our volunteers! Freddie came to us from Huddesfield after his owner moved and was sadly unable to take him with her.
BABY ORION MAKES A FULL RECOVERY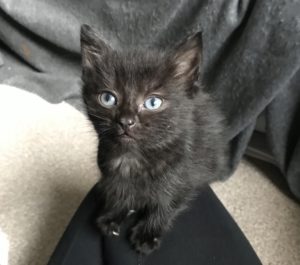 Our beautiful baby Orion (like Orion's Belt!) has made a full recovery after his stay in animal hospital. After an upset tummy, low temperature and severe dehydration he was treated with fluids and syringe fed by his foster mum, unfortunately his condition failed to improve and he had to go for a spell in hospital. He was treated for dehydration and anaemia and had an IV plus antibiotics and blood tests. Fortunately he has now made a full recovery and will suffer no long term effects. Even better he's got a fab new home lined up along with his mummy Stella! While we are delighted at Orion's recovery it does mean our vet bill has sky rocketed with his vet bills well into the hundreds! Rescuing Orion's mummy Stella and her kittens has already cost the rescue well over £600 just in basic neutering, vaccination and microchipping costs alone PLUS an additional £400 in food and litter during their stay. This means that Orion's bill will be on top of the £1,000 we have already spent on them, plus his brother had an eye infection which he has made a full recovery from, but it means even more vet bills! Adding all this on means that taking in Stella and her kittens has cost the rescue over £1,500! While we are sure you will agree that saving Orion, his mum and siblings is worth every single penny, it is a BIG amount for such a small rescue which receives no government funding and relies entirely on the kindness of the public. If you can even spare just £1 to help towards the cost of Orion's vet bill then please consider donating. For information on how to donate please visit our donate page.