This week at Pawprints we've said lots of goodbyes.
We also are answering multiple calls a day about cats being abandoned or about cats being given up by their owners and needing rescue space. We are absolutely overloaded with cats. We currently have 30 cats and kittens in our care with another 6 coming in next week! Right now we are so busy taking in cats being given up by owners living in rental accommodation and being told to give up cats by landlords OR they are moving to homes where a landlord doesn't allow cats, that we can barely even begin to start on the ridiculous number of stray cats in the area that need help.
If you are considering getting a cat PLEASE PLEASE consider if you are really in a position to look after a cat. Ask yourself if you really have suitable living arrangements and if you are truly in a financially stable enough place to take on the cost of an animal. If you are in a position that means you have to give up your pet, please contact rescue spaces as soon as possible. We will take the cat on but we don't always have space immediately, but we can put your cat on our waiting list.
Unfortunately we have numerous people who come to us less that 48 hours before they leave their home asking us to take in their cat. This places us under incredible amount of strain and causes stress to our volunteers, who run around frantically trying to come up with a space for your cat. We have had volunteers have to take cats into their own home with less than an hours notice and who've had to temporarily have cats staying in pens inside a converted garage at a volunteers house all because of their owners irresponsibility.
Onto the more positive news….
GOODBYE
This week we said goodbye to four of our residents Vinnie, Pebbles, Pinky and Junior. We will miss all of you very much. Live wonderful lives angels x
SCARAMOUCHE (NOW SAMMY)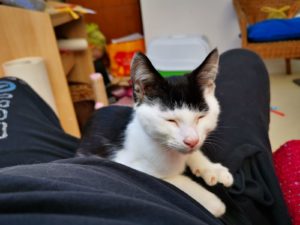 Our handsome former resident Scaramouche waved hello from his new home in Huddesfield. He is very settled in his new home already.
 We will be taking in more furry faces, so make sure to check back next week to meet them OR follow us on Facebook.