It's been a super busy week yet again at Pawprints Cat Rescue. We've waved goodbye to 4 of our residents and have 2 more who are packing their bags and of course we have some new furry faces.
WELCOME OLIVE AND OREO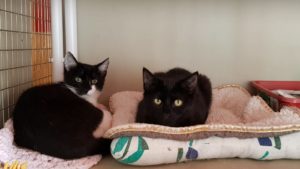 Huge Pawprints welcome to these 2 beautiful babies. They are about 5 months old and arrived at the rescue with their mum Stella, while Stella was still pregnant with her kittens. These 2 have lived their whole lives on the streets and are very timid. They have been in foster for a few weeks to socialise, but unfortunately couldn't stay at their foster home long term, so they are back at the rescue looking for forever homes. They are still very timid and will need a very special home. If you think that could be you please do get in touch.
WELCOME BACK SNIFFS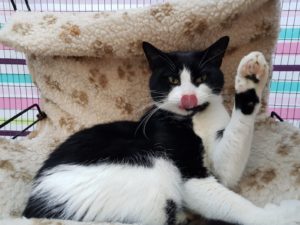 This handsome lad Sniffs finds himself back at the rescue. We re homed Sniffs back in February to what we thought was a lovely home and family. However Sniffs turned up a few miles away from his home and had been living as a stray for a number of weeks, despite numerous attempts by us and the vets who he was taken to we have been unable to reach his owners. Fortunately all cats leave Pawprints with a microchip and his chip had our address registered to it as well as his owners, so the vets were able to get in touch with him. We of course took him in right away. Sniffs is settling back into rescue life and will be available for adoption soon, unless his owners come forward with a VERY good reason for why he's been living as a stay for a month!
GOODBYE WHISKEY, SOOTY AND BLACKIE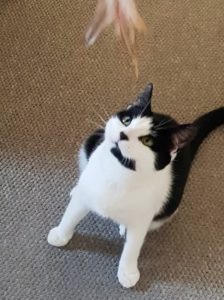 The beautiful ladies Sooty, Blackie and Whiskey went together to their new home on Friday. This lovely family came to us after their owner sadly passed away. Fortunately they have been given another chance by a fabulous lady who decided to take all three of them in, so as not to split them up. We think they are very settled already! Goodbye beautiful girls, have a wonder life together, we will all miss you x
GOODBYE RICHARD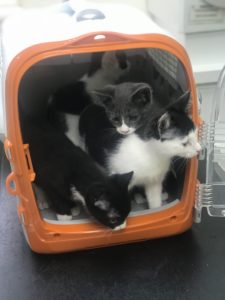 The beautiful Richard (little grey one!) has now gone to his fab new home with former Pawprints resident Kevin. We rescued this little boy along with his mum and brothers when they were just 8 days old, suffering from cat flu. We have watched you grow up into a healthy and lively boy. We will miss you so much, but we are all so happy you have the perfect home and family x
Ps 2 of Richards brother are still waiting for their forever homes. If you think you could give them a chance please get in touch to arrange to meet them).
WHAT WE ARE UP TO NEXT WEEK
We have lots planned for next week, with some of our residents packing their bags, which means there will be new ones coming in! Pappu's final sibling, Sherri, is proving to be a crafty cat and has sussed out he cat trap, he needs to be reunited with his brothers in foster and needs dental work asap so we will be resuming our attempts to rescue him soon.
We will also be busy in another area of Bradford trapping the mum of former residents Sid and Babs. Mum cat has been spotted again after having another litter of kittens which were rescued from an outdoor toilet. Three kittens have been rescued, but one still remains on the streets! We will also be working with local residents to try to catch mum cat and kitten, and get mum cat spayed. However we are at crisis point at the rescue, with absolutely no space for anymore cats. The 4th kitten will be re united with his/her siblings, however there is no space at all for mum cat unless we can find homes for our currents residents. Please do share our site and facebook posts so we can get the word out and help find homes for our kitties.