It's been a fun week at Pawprints as we waved goodbye to some of our residents as they went off to their forever homes. And we welcomed some newbies.
WELCOME AJ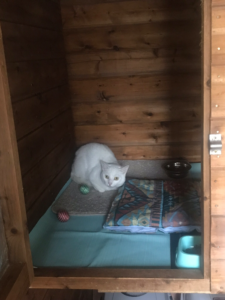 First thing first a huge Pawprints welcome to AJ our latest resident. AJ came to us after his owner's friend handed him to us saying his friend was moving the next morning and didn't want him! He is very scared, but he's starting to come round. This unfortunately is not uncommon and AJ's arrival has meant we have had to put on hold the arrival of other cats, who have been on our waiting list for almost 6 months already. However we are hopeful that the beautiful AJ will get his new home soon.
WELCOME ELLA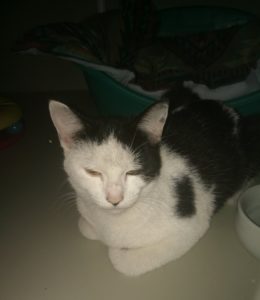 This beautiful girl was handed into us by some local children after she was found as a stray. Ella was in quite a state when she came to us, but she's now had flea and worm treatment and is getting plenty of food, fuss and love she deserves. Ella will be up for adoption shortly, after she's had her full health check at the vets.
BYE BYE DOODIE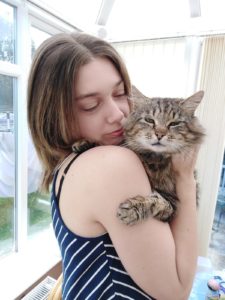 We have also said goodbye to our handsome boy Doodie, now Monty! Doodie came to us after living on the streets for 4 years and went into foster care in Bradford. He has now found his 5 star forever home in Huddesfield where he is going to be one very spoiled boy, as he deserves! Bye bye Doodie your foster mum is going to miss you and your cuddles. Have a wonderful life x
GOODBYE SETH AND LUNA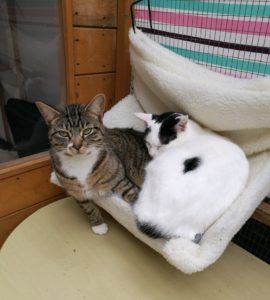 We also waved goodbye to our beautiful Seth and Luna, who have gone to a wonderful new home in Ilkley, after 3 months at the rescue. Goodbye, we will miss you both x
GOODBYE DUNCAN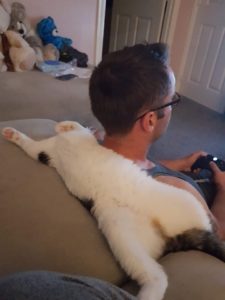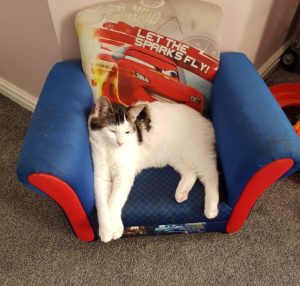 Last but not least we waved goodbye to the cheeky monkey that is also known as Duncan. We think he's just about settled into his new home! Goodbye Cheeky Monkey, we will miss you cheeky antics and non stop purring x
HELLO HANK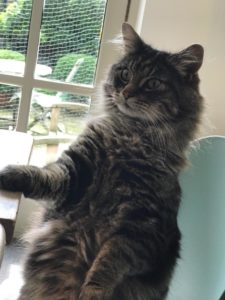 Say hi to Hank, our beautiful former resident sent us an update via his new family. He can be seen here in his 5 star forever home patiently awaiting his dinner! If you've adopted a Pawprints cat from us, do sent us your updates and pics. We do love to see our former residents!
THANK YOU MARLEY'S FAMILY!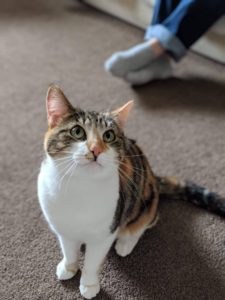 A huge thank you goes out to Marley's fab family. Since being adopted, Marley has become quite the princess. She has decided she doesn't want the nice scratching posts her family bought her, instead she wants boxes! However it's good news for our residents as her family kindly donated it all to us! Our lovely newcomer AJ is currently making full use of Marley's unwanted goods. Thanks you Marley's family, from everyone at Pawprints and especially AJ.
STELLA KITTENS
Stella's babies are growing up FAST. These cuties are not yet available for adoption as they are far too little and still need their mummy. Stella came to us, with her 5 month old kittens Olive and Oreo, while she was in the late stages of pregnancy with ANOTHER litter. We trapped her, Olive and Oreo after they were living in a garage in Leeds. Stella safely delivered her babies at Pawprints a few weeks ago.