Welcome to Paw Prints Cat Rescue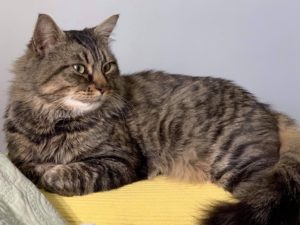 Pawprints Cat Rescue was started in 2012. We are a non profit in Bradford rescuing unwanted cats and kittens, providing them with veterinary care, food, love and cuddles! We don't receive any local or government funding and rely entirely on donations from the public and the help of our unpaid volunteers.
The rescue has 10 outdoor pens, 6 temporary holding spaces and a small team of fosterers. We can be caring for 30 PLUS cats at any one time, in addition to our long term residents.
In a year we will rescue over 100 cats from the streets.
Our main focus is on adult cats. Due to having a limited number of fosterers we tend to have mostly adult cats with the occasional pregnant mum or litter during the height of kitten season. At Pawprints we treat every single cat as an individual and due to us being a smaller organisation we really get to know every cat in our care. We keep in touch with many families who adopt from us and love getting updates on them in their new homes.
We are run by a small group of cat lovers who dedicate their spare time to rescuing cats. Our volunteers take cats into their homes as emergency fosters, have stayed up until 3am nursing sick cats, drive up and down Bradford on their weekends attending reports of stray cats and answering a constant stream of messages and e mails. They do this all unpaid alongside full time jobs and families, because we all want to see these cats off the streets and happy in loving homes.
Our policy on euthanasia: At Pawprints we do everything we can to save a cat. We have had many vets suggest to us over the years that we should put a cat to sleep due to cost or because it would be time consuming to save it. However we do not EVER let this happen. We treat these cats like we would if they are our own and we fight for every single one of them, even if this means a sky high vet bill. We are not the biggest or the fanciest rescue but the cats are at the heart of everything we do. The only circumstance we would put a cat to sleep would be if the cat was severely ill, in pain and we have been told by our trusted vet that nothing more can be done. In this circumstance we would give the ok for the cat to be put to sleep. Fortunately this doesn't happen often. When it does one of our volunteers or the cats fosterer will sit with the cat to the very end so it's not alone.