Interested in adopting?
Visiting the cats is by APPOINTMENT ONLY once we have processed your adoption enquiry. 
If you would like to enquire about any of our cats please fill out our adoption enquiry form and someone will be in touch with you for a chat. Please keep in mind that we are run entirely by volunteers who do this around full time jobs and families, but we will try to get back to you as quickly as possible.
MEET OUR RESIDENTS
BERTIE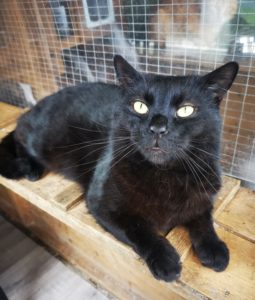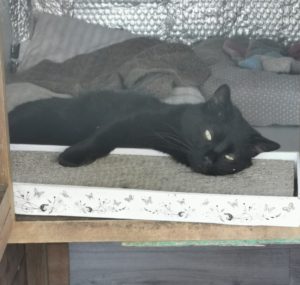 Male
Approx 2-3 years old
Needs Outdoor Access
Hey hey, Bertie here! I came to Pawprints after living in a nice family's shed over the winter. They kept me warm and fed until they could find me help. I'm a chilled boy, I love to spend my days lazing around and having some fusses. The volunteers call me a big hunk, I try not to let it go to my head! I've been learning to play too, it's pretty fun! I'd love a nice comfy home with a garden purrrettyyy purrlease! I'd be better with adult hoomans or ones with older little hoomans. Get in touch to come meet me! 🐾
IVAN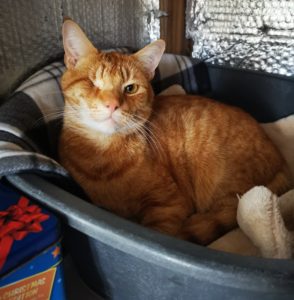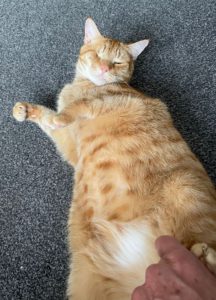 Male
Approx 6-7 years old
Shy but sweet
Hey, Ivan here. I found myself at Pawprints when I was left in a strange area I didn't know and was super scared! Some kind folk saw me and told the volunteers who came to help. I'm in a foster home now as I feel safer inside, you see I only have one eye so it makes me nervous to be out too long. My foster pawrents say I'm a sweet boy with a very loud purr once I get going! I'm a bit nervous of new people so I'd prefer a quiet home but once I know you I looovvvveee fusses! I prefer to be inside all cosy but a little walk round a safe garden occasionally would be purrfect. Can you offer me my furever place to call home? I look forward to meeting you 🐾
MARINA (RESERVED)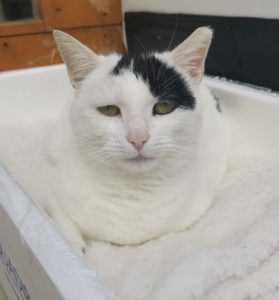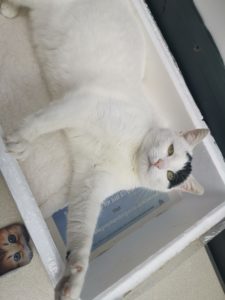 Female
Approx 4 years old
Needs Outdoor Access
Hiya! Marina here. I came to Pawprints after I spent the winter living in a garage. It wasn't too bad, the kind people made me a warm bed and kept me fed but I'd much prefer a warm house to sleep in! The folk here think my human might have passed away. I'm a chilled out friendly lady who loves me some strokes and cuddles but also happy just to be left to have a snooze or explore my garden. I have a pen neighbour here at the rescue, Shelley who likes to chat to me and I just listen, I'm good listener! Nothing much really phases me, I'm happy so long as I have a cosy bed, a nice little garden and of course, food! Get in touch to meet me 🐾
THEO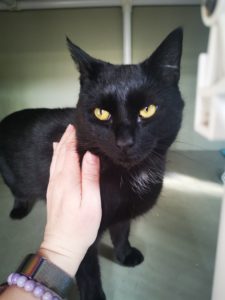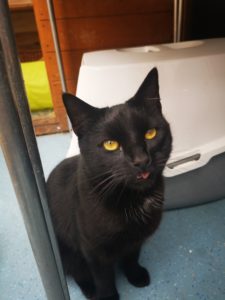 Male
Approx 9 months old
Needs Outdoor Access 
Hiyaaaaa! I'm Theo! I'm a cheeky chap with lots of energy! I love to play & run around my pen but I also like fusses too! I was found near a busy road which I was being rather daft on so the volunteers say I need a nice safe area with a garden to play out in. So come on, come and adopt me as I can't wait to have my very own home to race around in! 🐾
COLE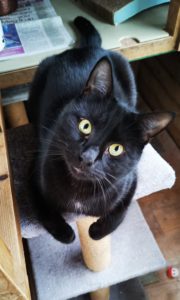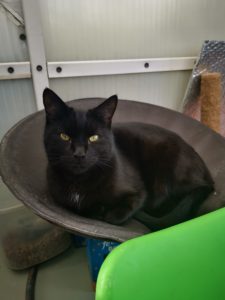 Male
Approx 2 years old
Needs Outdoor Access
Cheeky and playful
Hi, the names Cole. I came to Pawprints when my owner passed away. I like to get to know you a bit before I feel comfy but once I've apurroved you I'm happy. I love to play, the pic is my best game face! I do need to be able to play out in my furever home. I'd feel better with a hooman who has had cats before and no tiny hoomans as I can play a little rough at times. I'm very cute though and would make a great house panther! So what are you waiting for, adopt me 🐾
LARRY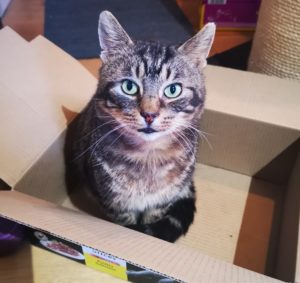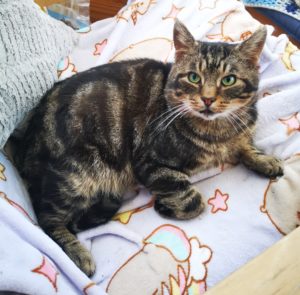 Male
Approx 6 years old
Needs Outdoor Access
Special needs – allergies
Hey hey, I'm Larry and I started visiting my foster mum a few months ago now. I learned to trust her and she let me sleep in the warm and fed me up. I'm a bit of a special case as unfortunately I've been having problems with my itchy skin! Its been quite a journey and my foster mum is still trying to help me but she said I need to be in a home as an only cat or one with another allergy cat where they can help me get to the bottom of it (with Pawprints' support) as there are another 6 cats here and I always find their food no matter where she hides it, oops! She says I'm a quirky character and am forever finding random places to sleep! I like me some catnip and a play too. I'm pretty independent, I like some fusses but also just like to be able to do my own thing. If you have the time and patience to let me get to know you and help me get my silly itching better I'll be your loyal boy furever 🐾
*Special home/s needed*
CHARLOTTE, ARCHIE, LILI AND LOUIS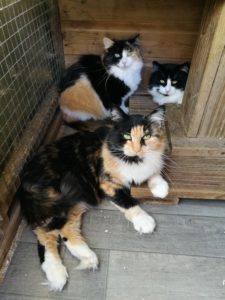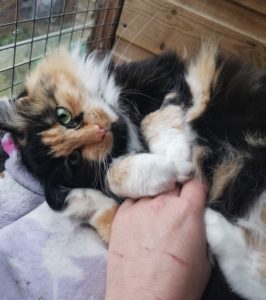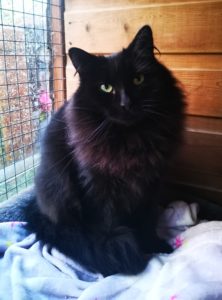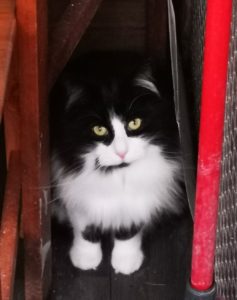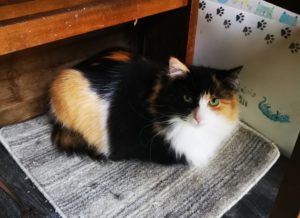 We are the 'Furmouse 4'. We used to be the 'Furmouse 5' but we sadly lost our brother George a few months ago when he and Charlotte got poorly. Charlotte was very lucky she managed to fight the virus with the help of the vets and after lots of waiting we have been able to live together again. We came to Pawprints early last year after being born outside, we were very timid and the rescue have been working hard to build our trust. Charlotte and Archie are the most confident and both love fusses once we get to know you, Lili & Louis are still very shy but we will let you stroke us and relax more after someone spends time with us. The volunteers would love us to find our furever home/s now and continue to grow our confidence. We've had a catsultation as the volunteers said we may need to go in pairs and have decided that Charlotte and Archie would stay together and Lili and Louis. Of course if anyone wanted us all this could be arranged! We will need a quiet home with someone who has experience of us shy cats. Can you offer us a chance? Please fill in a form for a chat with the hoomans about us if you can 🐾
CYPHER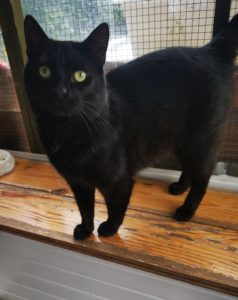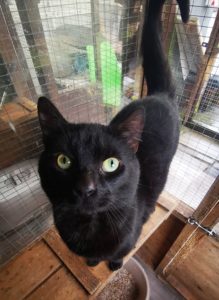 Male
Approx 18 months old
Needs outdoor access
Shy but sweet
Heyyy, the names Cypher and I came to Pawprints after my owners were giving me away and a kind lady took me in to keep me safe. I'm a bit shy at first but I'm a sweet chatty boy once I get to know you. I've not had the best start in life but I'm building my confidence every day. I love running around my pen, I have lots of energy and am learning how to play. I'd be better with an adult home or with an older little person as I can get spooked in a noisy household. Do you have the purrfect home for me? 🐾
PANDORA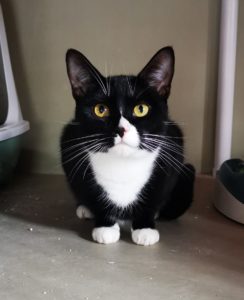 Female
Approx 18 months old
Needs outdoor access
Hello, Pandora here. I came to Pawprints after a nice girl found me after I was left in a box at the side of the road 🙁 I was super scared when I arrived but after a while I realised I was safe and the people here are very kind. They have been feeding me up and got me my spay operation, they said I was good as gold! I feel so much better and have been playing with all my toys this week! The volunteers said I can now look for a nice home where I will be treated like a princess! I'm a sweet girl, I like attention and fusses but I would prefer to be the only cat if pawsible. I will give you enough attention that you won't need any more! So what are you waiting for, get my adoption form thingy sent in! 🐾
ISAAC (RESERVED)
*SPECIAL HOME NEEDED*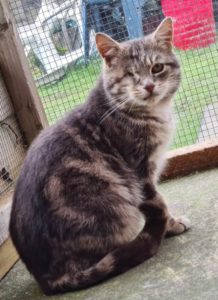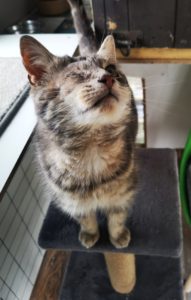 Male
Approx 6 years old
Lap cat
Needs Outdoor Access – catio or cat fenced garden eye-deal!
Heyyyy, the name's Isaac or as my vet nurse friends nicknamed me, One Eyed Willie! The kind people at Pawprints were sent pics of me with my poorly eyes and rushed me into the vets. Sadly my right one was so bad they had to do emergency surgery to take it out 🙁 I'm all healed now and am getting used to life with one eye. My other eye did have a bit of damage but I can still see from it at the moment, phew! As the volunteers can't be sure exactly how much sight I have and if I may lose it any further they are a little worried I will be at risk in the big wide world but they know how much I like hanging out in the catio on my pen so don't want to take the outdoors away from me completely.They said that a house with a catio or cat fenced garden would be purrfect but know it's a big ask so we could think about a high fenced garden in a super safe area also. I'm a friendly boy who loves attention and I love me a good lap to sit on too! I had a tough life on the streets before coming here so just need a warm cosy home with people who will love me furever 🐾
SEEN ANYONE YOU LIKE? PLEASE GET IN TOUCH WITH US VIA OUR ADOPTION ENQUIRY FORM AND SOMEONE WILL BE IN TOUCH SHORTLY TO ARRANGE A VISIT TO MEET OUR RESIDENTS
KITTENS
We are a rescue that mainly focuses on adult cats. However, sometimes we do have kittens looking for homes which will be stated on this page. We only home kittens once they've reached the age of 12 weeks and we never home a kitten under the age of 8 weeks as it goes against the animal welfare act, kittens are far too young to be away from their mother at such an age. When adopting a kitten from Pawprints you enter into an agreement that the kitten will be neutered/spayed when it is old enough (usually around 4-6 months or when it has reached 2kg) and we will be informed by our vets when this has taken place.
Adoption Process
We are unable to home cats to anyone living on or very near to a main road or railway line, this is for their own safety. All cats are home checked (not as scary as it sounds we promise!). We appreciate that not everyone likes the idea of a home check, however, we are responsible for the welfare of the cats in our care and it would be irresponsible of us to let them go without knowing where they are going. We are not there to judge you or your decor! We are there simply to check that everything is OK, that you don't live on a main road and that you know everything you need to know to get your cat settled in.
We will ask for your address initially so we can look up your home to make sure it is in a suitable location. If we believe it to be unsuitable, we will contact you to let you know. All final decisions are made by the rescue owner. A home check will be performed when we drop off the cat you would like to adopt to you, if everything is OK we will ask you to fill out an adoption form that signs the cat over to you. Up until this point we do have the right not to hand the cat over to you, however this only happens in very exceptional circumstances when we believe there is a risk to the cat/kitten and is very rare.
Adoption Fees
All cats adopted from Pawprints Cat Rescue come with 5 weeks free insurance from Agria Pet Insurance and have been health checked by a vet, neutered, vaccinated, microchipped and have received treatment for fleas, ticks and worms. The adoption fee is to cover part of the cost. This basic care alone will cost us upwards of £150 and that's before we add in costs of food, litter and any additional vet care. We ask for an adoption fee of £80 for our cats, which is just a fraction of what we have paid out. This enables us to carry on our work of rescuing unwanted and abandoned cats.