Interested in adopting?
We have plenty of cats and kittens in our care who are sat waiting for their forever home to come along. From our kittens to our more senior cats, we've got plenty who'd love to say hello to you.
If you would like to enquire about any of our cats or to ask about kittens (not all kittens are listed on the page yet, so please do get in touch) then you can enquire via our Facebook page or e mail paws_in_need@yahoo.co.uk.
If you would like to visit the rescue to meet our cats you are more than welcome to do so, please do get in touch first so we can arrange for someone to greet you and show you around.
MEET OUR RESIDENTS
JANET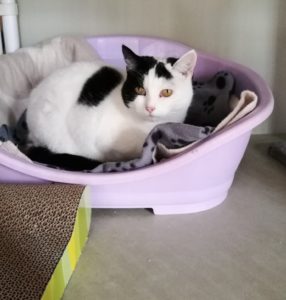 Hello, I'm Janet. I came into the rescue after I'd been found living on the streets. I'm approx 6 years old. I'm a super sweet and friendly girls and while I'm well cared for her at the rescue, it's a bit noisy with all the other cats and I'm quite down at the moment. I would love a family of my own and a lap to curl up on. I would prefer somewhere with no other cats and a garden for when I'm ready to go outside. Could you be my happy ever after?
SKYE, KUBA AND PIPPA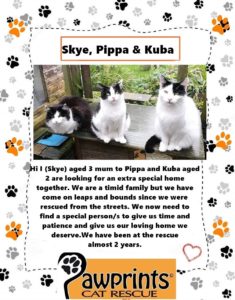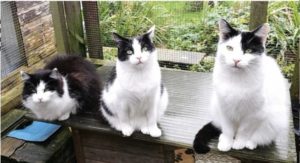 Hi, I'm Skye (3 years old) and this is my daughter Pippa and my boy Kuba (both aged 2). We are all very close and need a very special home. Myself and Pippa are a bit timid and can get very scared around people, but Kuba is a friendly and cheeky boy. We would love a nice family who understand our needs and would have the patience to help us come out of our shells. We would love to be homed with all together, but we know this might be a huge ask. We would need access to the outdoors once we are settled in. Would you help us?
OLIVE AND OREO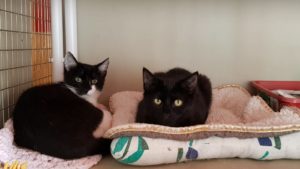 Hello, we are Olive and Oreo. We came to the rescue after we had been living on the streets with our mum Stella. We have never had much contact withe people, so we are very timid and shy. Now our mummy Stella and her new kittens all have nice homes we now have a foster home for us so we are going there to work on our social skills and get super brave. We would require a very special home, with people who would have the patience and experience to let us come out of our shells. We would love a home and family of our own, we've never had one before! Could you give one to us?
KITTY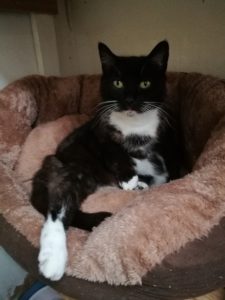 Hello, my name is Kitty. I'm 10 years young. I came to the rescue after my owners could no longer look after me. I'm a lovely and friendly girl who loves her food and takes everything in my stride. I love to be fussed and sit on your lap and did I mention I love food! I've previously been overlooked because of my age, not everyone wants an experienced girl like me! They say I'm old, which is very silly! I would love a nice garden to sit out in when I get to my forever home. Could you give a home for a lovely lady like me?
TIGER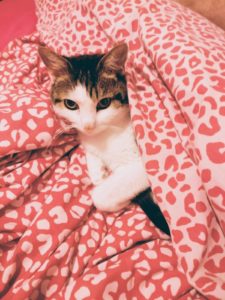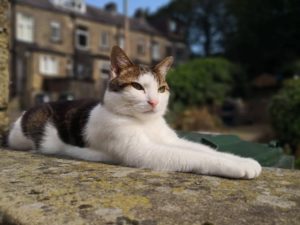 Hi there! I'm Tiger. I came to the rescue a year ago after my owner passed away. I hated being in a pen and was very sad so I went into a foster home. It's good here but I would love a forever home though, I've been waiting so long. I'm 8 years young and love to sit on everyones lap. I love to play with my dangly toys too! I would like a nice quiet home with no little people please. Maybe a nice garden for me to sit out in too. Could I be the cat for you?
JASMINE

Hello! I'm Jasmine. I'm 13 years young. I was abandoned by my previous owners after they just moved home and left me. Fortunately the estate agent found me, took me home and found me a rescue space at Pawprints. I'm not keen on other cats and as a girl reaching her retirement years I'd like a nice quiet home please. Do you have space for an older girl like me?
DIESEL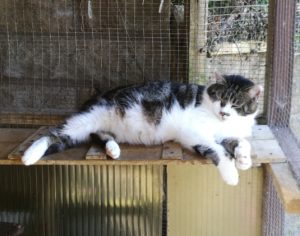 Hi! I'm Diesel. I've been through a lot in my life. I was abused for many years on the streets, but fortunately was taken in by Andy from Andy's Feral & Strays who helped me to trust humans again. Sadly Andy passed away a few months ago. Another rescue helped find me a home, having been open about my mistrust of humans. However, a kettle fell and made a large bang in the kitchen and I got scared and bit my owner. My so called owner tried to take me to the vets to be put to sleep because I'd got scared! Fortunately Wonder Woman Cat Rescue and Pawprints found out what she planned to do and rescued me at the last minute! I am a sweetheart that just wants to be loved, but I can be jumpy and I'm very guarded of my food. I need an extra special and experienced home with no children or other cats, with access to outdoors. If this could be you, please come to say hello! 
WILLOW *Reserved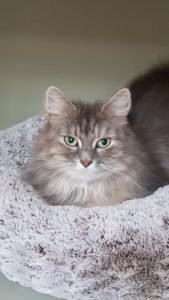 Hello, I'm the beautiful Willow. I came into Pawprints after I was found wandering the streets by myself. I'm 8 years old and I'm very much a princess who expects to be pampered and spoiled! I love my fusses and cuddles and I love to be groomed, my beauty regime must be maintained after all. I will be modelling for more pictures soon once it can be fitted into my busy schedule of lounging around and being fussed. I would like to be the only cat please as I can't be doing with this silly sharing business, and of course access to a nice garden when I'm ready. Are you looking for a princess like me?
STANLEY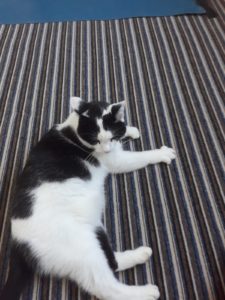 Hi, I'm Stanley. I'm a very handsome man who hasn't quite got the hang of this modelling thing yet! However there is a lovely video of me looking all lovely though. I'm a lovely fella but I can't be doing with this sharing business and all the other cats at my foster house keep being mean to me and bullying me! I'm currently in foster in York and I'm accepting visitors. Could you give a home to a loveable boy like me?
FREDDIE
Hi I'm Freddie! I'm about 4 years old and came to the rescue after my previous owner gave me up because she was moving. I'm a big chunky boy who's a bit timid at the moment as I'm new to the rescue, but I'm slowly finding my paws and realising it's not so bad here. I'm a friendly boy once I get to know you. I previously lived with another cat, so I could live with another. All I want for Christmas is to find a forever home with someone who will look after me no matter what! Could you be my forever human?
BRUCE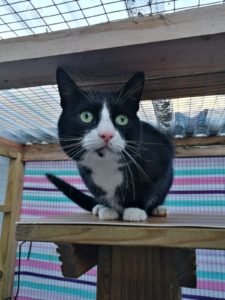 HI ALL!! I'm the handsome Bruce! I'm a chunky loveable chap who came to Pawprints after I was found as a stray. In fact I was found because I kept trying to break into one of the volunteers houses! I was fully on board with the idea of staying however the other cats did not approve of me gatecrashing their pad, so her I am. I'm rather annoyed about it and I'm plotting my escape! I'm told they are going to get me a home I'm actually allowed into and were I won't have to break in! I do like the sound of that I must say, but I wish they'd hurry up about it, it's getting nippy out in my pen and there is no room for a sofa in here. I'm not sure how old I am yet, but I'm a youngish chap. Could you be one of these forever human thingies they tell me about?
BOOTS AND SOCKS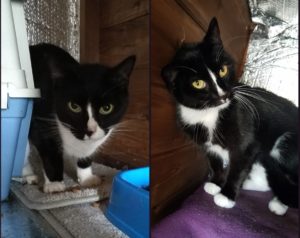 Hi, I'm Boots and this is Socks next to me. We are two very handsome boys, if we do say so ourselves! We are about 2 years old (we think!) and we are the best of friends so we really must be homed together. We are very shy once we get to know you and we are struggling with rescue life, but we are slowly getting used to it and we let some of the more regular volunteers give us fusses now. We really love our fusses with people we know. We can be indoor or outdoor cats, we don't mind. We need a really special home with people who are kind enough to help us come out of our shells. Could you be the special person we are looking for?
MILLIE *Reserved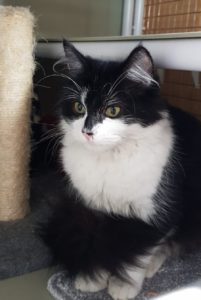 Hi, I'm Millie! I'm a lovely little 6 month year old girl. I'm very very friendly and I love to be picked up and cuddled and fussed. I came into Pawprints after I was found in a bin! I'm really am just super lovely and very pretty. I would love a forever home of my own. I'm ok with other cats and dogs. Could you give me fusses forever and ever?
MONTY
Hi, I'm Monty. I'm a very handsome chatty man! I'm about 8 years old and was found as a stray and it was later discovered I was a stray for FOUR years! I'm part Maine Coon, so I'm VERY vocal and I like to give teddy bear hugs once I know you. I've had a confusing time of it recently as I was re homed, but my new sister didn't like me so I was sent back to the rescue. I couldn't go back to my foster mum because her house had been taken over by a stray mummy cat and her babies while I was away! So I'm back in a pen. All I want is to play with my toys (especially catnip mice!) and to be the king of my castle. I need a home with NO other cats and access to the outdoors when I am ready. Oh and I have a clever paws up trick I do to be picked up (my former foster mum will tell you about it) Could you be my happily ever after?
SNIFFS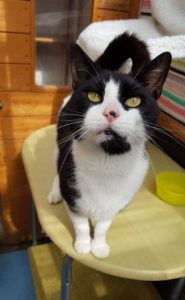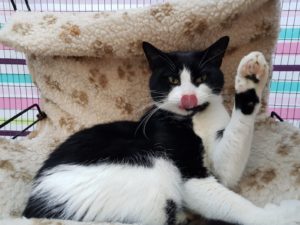 Hey all! Sniffs here! Having a rough time of it with these silly humans. Here's my tale of woe…. First I was given up by owners because I was unwanted! How that could possibly happen is beyond me… So I found myself at Pawprints at the end of 2018. I was finaalllyyy re homed in February BUT THEN, much to the mystery of the humans at Pawprints, I turned up as a stray at a vets. Fortunately I had a chip and it had my previous place of residence down as Pawprints, as well as the place I was re homed to. So when the vets couldn't get in touch with my owners, they called Pawprints who of course came to my rescue for the second time, and here I was again at Pawprints. THEN (oh I'm not finished yet!) I buddied up with Marlon another resident and I was re homed with me (Marlon has his own tale of woe but all attention on me right now!) but after a few days we were sent back because they decided they had allergies! So here I am AGAIN!!! Can you believe it. Now lets get down to business. I'm approx 6 years old and if you turn your nose up and call me old then you don't deserve me! So there! I'm not keen on other cats, although I could be persuaded. I can be re homed with my mate Marlon below. We don't see eye to eye all the time, but he's alright. Now I'm off for a snooze, please direct all your enquiries towards my Social Media Manager and general assistant Racheal over on the Facebook page and form an orderly line, she will deal with you all shortly.
MARLON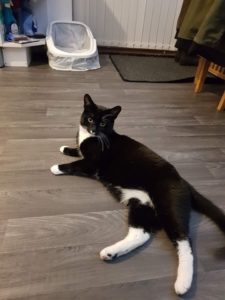 Marlon here! Sniffs was supposed to fill you in above, but I bet you my Dreamies he banged on about himself. Typical! Anyway… here is my own tale of woe. I was abandoned by my former so called owners who just moved house and left me behind. Very rude! Fortunately, Pawprints came to my rescue. I had my marbles off and all my jab things (nasty business) and then was re homed. After a few months though they handed me back because I scratched them! Can you believe it! I was merely expressing an opinion. I am a very friendly boy but I am a CAT! We are a very opinionated bunch if you didn't already know. Anyways…. I buddied up with loud mouth Sniffs who talks A LOT (about himself mostly) and we got re homed together. They then sent us back because they decided they had allergies. So here I am again. I'm about 3 years old and I just want a forever home! I'm not keen on other cats, although Sniffs is alright, I could go with him I suppose. Now loud mouth Sniffs is yelling about something, think it's grub time so I'm off!
NELSON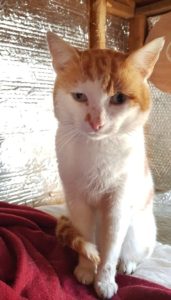 Hi, I'm Nelson. I've had an awful life so far and I feel very scared and sorry for myself right now. I'm a lovely boy who likes his food, it's been in short supply most of my life. I was found as a stray after I turned up in the garden at Pawprints. They started feeding me and noticed I had a poorly eye, so they got me a pen with a nice bed and lots of food. I've been to the vets and had antibiotics and I'm now having my vaccinations. I'm a lovely and friendly boy who's so deserves a nice loving home! Do you have a heart for me?
KITTENS
We do have kittens looking for homes. We only home kittens once they've reached the age of 12 weeks and we never home akitten under the age of 8 weeks as it goes against the animal welfare act, kittens are far too young to be away from their mother at such an age. When adopting a kitten from Pawprints you enter into an agreement that the kitten will be neutered/ spayed when it is old enough (usually around 4-6 months or when it has reached 2kg) and we will be informed by our vets when this has taken place.
If you would like to meet some of our kittens then please get in touch here.
Adoption Process
We are unable to home cats to anyone living on or very near to a main road or railway line, this is for their own safety. All cats are home checked (not as scary as it sounds promise). We appreciate that not everyone likes the idea of a home check, however we are responsible for the welfare of the cats in our care and it would be irresponsible of us to let just anyone walk off with them, without knowing where they are going. We are not there to judge you or your decor! We are there simply to check that everything is ok, that you don't live on a main road and that you know everything you need to know to get your cat settled in.
We will ask for your address so we can look up your home to make sure it is in a suitable location. If we believe it to be unsuitable you will not be able to adopt the cat and we will contact you to let you know, all final decisions will be made by the rescue owner. We politely ask that you do not send family/ friends to argue on your behalf. A home check will be performed when we drop off the cat you would like to adopt to you, if everything is ok we will ask you to fill out an adoption form that signs the cat over to you. Up until this point we do have the right not to hand the cat over to you, however this only happens in very exceptional circumstances when we believe there is a risk to the cat/ kitten and is very rare.
Adoption Fees
All cats adopted from Pawprints Cat Rescue come with 5 weeks free insurance from Agria Pet Insurance and have been health checked by a vet, neutered, vaccinated, microchipped and have received treatment for fleas, ticks and worms. The adoption fee is to cover part of the cost. This basic care alone will cost us upwards of £150 and that's before we add in costs of food, litter and any additional vet care. We ask for an adoption fee of £65 for adult cats and £80 for kittens, which is just a fraction of what we have paid out. This enables us to carry on our work of rescuing unwanted and abandoned cats.