Interested in adopting?
We have plenty of cats and kittens in our care who are sat waiting for their forever home to come along. From our kittens to our more senior cats, we've got plenty who'd love to say hello to you.
If you would like to enquire about any of our cats or to ask about kittens (not all kittens are listed on the page yet, so please do get in touch) then you can enquire via our Facebook page or e mail paws_in_need@yahoo.co.uk.
If you would like to visit the rescue to meet our cats you are more than welcome to do so, please do get in touch first so we can arrange for someone to greet you and show you around.
CAT OF THE WEEK:
Hi, I'm Pebbles. I'm a very handsome 3 year old boy. I came here after my owners could no longer care for me. I may be a little timid until I get to know you, one can't be too careful these days! But once I do know you I'm quite a friendly chap. I like to stick my nose into everything you do, after all I'm a cat! And I like to help the volunteers here clean out my pen I'm good like that! They don't seem to think I'm very helpful though! I would love a forever home of my own with a nice garden of my own when I'm ready. Do you have space for a handsome man like me?
MEET OUR OTHER RESIDENTS
MONTY (WAS DOODIE)

Hi, I'm Monty. I came to Pawprints after living on the streets for at least 4 years! I'm about 7-8 years young. I love to have fusses and cuddles. I LOVE LOVE LOVE my food! I also like to eat Dreamies from your hand. Having lived so long as a stray I'm not very good with other cats, so I would like to be the king of my castle. I would love a nice home with a garden to roam about in. I'm currently in foster in Bradford. Do you have space for a handsome man like me?
MARLON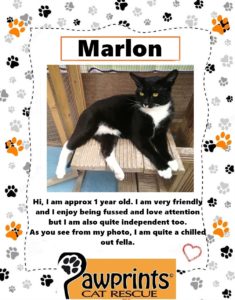 Hello, my name is Marlon. I came to the rescue after my previous owners moved house and left me behind! I was shy at first but now I'm very friendly and love a good fuss, and to be the centre of attention. I'm quite a chilled out cat. I'm about 1 years old I think! I would like to be the king of my forever home as I can't be doing with all these other cats. Could you be my happy ever after?
ELLA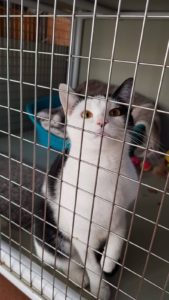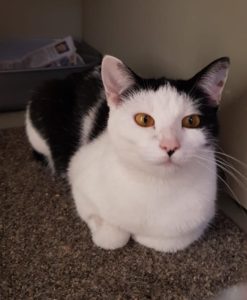 Hi, my name is Ella. I'm about 1 years old. I was handed into Pawprints by some local children after I was found wandering the streets all alone and hungry. I was a bit shy at first but I'm a very lovely girls who loves a tickle, but I'm also quite independent. I'm fine with children and other cats. I would love a forever home with nice people who will spoil me the way I deserve. Could you love a princess like me? I will be posing for more pics soon.
SKYE, KUBA AND PIPPA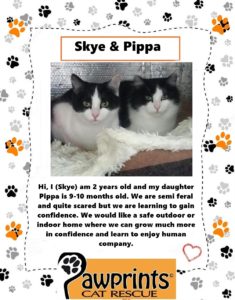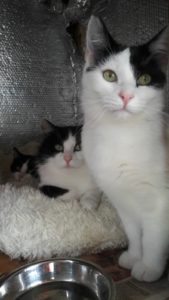 Hi, I'm Skye and this is my daughter Pippa and my boy Kuba. We are all very close. Myself and Pippa are semi feral and can get very scared around people, but Kuba is a friendly and cheeky boy. We would love a nice family who understand our needs and would have the patience to help us come out of our shells. We would love to be homed with all together, but we know this might be a huge ask. We would need access to the outdoors once we are settled in. Would you help us?
OLIVE AND OREO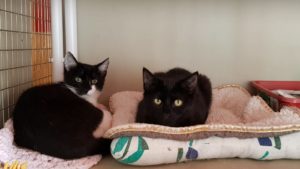 Hello, we are Olive and Oreo. We came to the rescue after we had been living on the streets with our mum Stella. We have never had much contact withe people, so we are very timid and shy. We would require a very special home, with people who would have the patience and experience to let us come out of our shells. We would love a home and family of our own, we've never had one before! Could you give one to us?
KITTY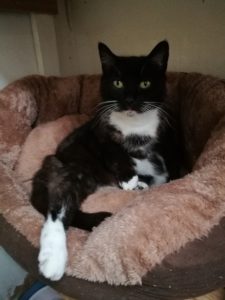 Hello, my name is Kitty. I'm 10 years young. I came to the rescue after my owners could no longer look after me. I'm a lovely and friendly girl who loves her food and takes everything in my stride. I love to be fussed and sit on your lap and did I mention I love food! I've previously been overlooked because of my age, not everyone wants an experienced girl like me! They say I'm old, which is very silly! I would love a nice garden to sit out in when I get to my forever home. Could you give a home for a lovely lady like me?
TIGER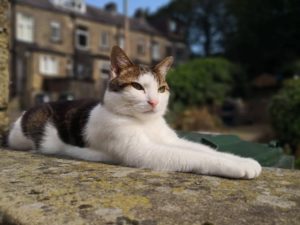 Hi there! I'm Tiger. I came to the rescue a year ago after my owner passed away. I hated being in a pen and was very sad so I went into a foster home. It's good here but I would love a forever home though, I've been waiting so long. I'm 8 years young and love to sit on everyones lap. I love to play with my dangly toys too! I would like a nice quiet home with no little people please. Maybe a nice garden for me to sit out in too. Could I be the cat for you?
JASMINE
Hello! I'm Jasmine. I'm 13 years young. I was abandoned by my previous owners after they just moved home and left me. Fortunately the estate agent found me, took me home and found me a rescue space at Pawprints. I'm not keen on other cats and as a girl reaching her retirement years I'd like a nice quiet home please. Do you have space for an older girl like me?
DIESEL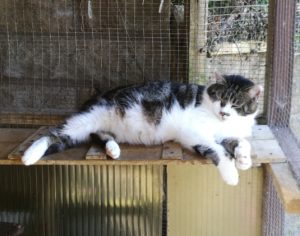 Hi! I'm Diesel. I've been through a lot in my life. I was abused for many years on the streets, but fortunately was taken in by Andy from Andy's Feral & Strays who helped me to trust humans again. Sadly Andy passed away a few months ago. Another rescue helped find me a home, having been open about my mistrust of humans. However, a kettle fell and made a large bang in the kitchen and I got scared and bit my owner. My so called owner tried to take me to the vets to be put to sleep because I'd got scared! Fortunately Wonder Woman Cat Rescue and Pawprints found out what she planned to do and rescued me at the last minute! I am a sweetheart that just wants to be loved, but I can be jumpy and I'm very guarded of my food. I need an extra special and experienced home with no children or other cats, with access to outdoors. If this could be you, please come to say hello! 
SNIFFS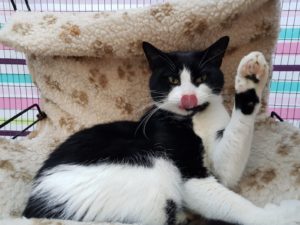 Hi, I'm Sniffs. I came to the rescue after I was given up by my owners. I thought I'd found my Forever home in February, but my owners abandoned me. Fortunately, Pawprints was still registered as a former home on my microchip so when I was brought into the vets they could get in touch with them. They of course they drove miles to come to my rescue for the second time. I'm now settled back into rescue life. I'm 6 years old and I'm very very chatty! I don't mind other cats, I currently share a big pen with Marlon. I love to be the centre of attention. Would you like to come say hello?
GYPSY & GINGE
Hi, we are Gypsy and Ginge. Don't be fooled by our cute innocent faces we are an absolutely crazy sibling pair! We came to Pawprints with our mum Hazel after someone found us all in their garden. We are 2-3 months old and are on the lookout for our fab forever home where we can be as crazy as we want and run round all day and chase each other. We are currently in foster care in Bradford. Do you have room for an adorable pair like us?
KITTENS
We do have kittens looking for homes. We only home kittens once they've reached the age of 12 weeks and we never home akitten under the age of 8 weeks as it goes against the animal welfare act, kittens are far too young to be away from their mother at such an age. When adopting a kitten from Pawprints you enter into an agreement that the kitten will be neutered/ spayed when it is old enough (usually around 4-6 months or when it has reached 2kg) and we will be informed by our vets when this has taken place.
If you would like to meet some of our kittens then please get in touch here.
Adoption Process
We are unable to home cats to anyone living on or very near to a main road or railway line, this is for their own safety. All cats are home checked (not as scary as it sounds promise). We appreciate that not everyone likes the idea of a home check, however we are responsible for the welfare of the cats in our care and it would be irresponsible of us to let just anyone walk off with them, without knowing where they are going. We are not there to judge you or your decor! We are there simply to check that everything is ok, that you don't live on a main road and that you know everything you need to know to get your cat settled in.
We will ask for your address so we can look up your home to make sure it is in a suitable location. If we believe it to be unsuitable you will not be able to adopt the cat and we will contact you to let you know, all final decisions will be made by the rescue owner. We politely ask that you do not send family/ friends to argue on your behalf. A home check will be performed when we drop off the cat you would like to adopt to you, if everything is ok we will ask you to fill out an adoption form that signs the cat over to you. Up until this point we do have the right not to hand the cat over to you, however this only happens in very exceptional circumstances when we believe there is a risk to the cat/ kitten and is very rare.
Adoption Fees
All cats adopted from Pawprints Cat Rescue come with 5 weeks free insurance from Agria Pet Insurance and have been health checked by a vet, neutered, vaccinated, microchipped and have received treatment for fleas, ticks and worms. The adoption fee is to cover part of the cost. This basic care alone will cost us upwards of £150 and that's before we add in costs of food, litter and any additional vet care. We ask for an adoption fee of £65 for adult cats and £80 for kittens, which is just a fraction of what we have paid out. This enables us to carry on our work of rescuing unwanted and abandoned cats.