Interested in adopting?
COVID-19: We are still open through the current pandemic but are having to do things a bit differently. You can still visit the cats but by APPOINTMENT ONLY. This is to ensure we can keep social distance measures in place. Please wear a mask when visiting, use the hand gel provided and keep 2m away from the person showing you around. If you are bringing members of your household with you, please let us know before your arrival. DO NOT VISIT THE RESCUE IF YOU HAVE HAD SYMPTOMS OF COVID-19 IN THE LAST 14 DAYS. IF YOU TEST POSITIVE FOR COVID-19 WITHIN 14 DAYS AFTER YOUR VISIT PLEASE CONTACT US IMMEDIATELY.
If you would like to enquire about any of our cats please fill out our adoption enquiry form and someone will be in touch with you for a chat. Please keep in mind that we are run entirely by volunteers who do this around full time jobs and families, but we will try to get back to you as quickly as possible.
MEET OUR RESIDENTS
TIMMY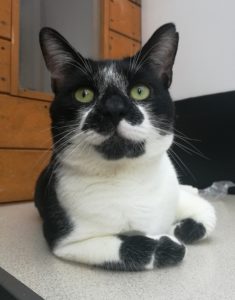 Male
Approx 4 years old
Needs outdoor access
Needs to be the only cat
Hello, Timmy here! The kind people at Pawprints came to my rescue after I didn't have anywhere to go. A nice lady was feeding me and asked for help as she couldn't find my humans. I'm very friendly and enjoy a little play and fusses but too much of it can be a bit overwhelming. I do love people but the hoomans here say I need a home that has been used to having cats as I am a little unsure at times even though I act all confident. You have to keep your street creds don't you! I'd make a great companion so purrlease pick me!
SHEERAN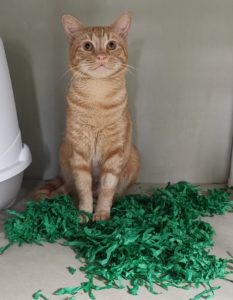 Male
Approx 1 year old
Outdoor access
Family friendly
Heyyyyyyy, Sheeran here!!! I found myself here when my hooman moved away and didn't take me with them. The volunteers here say I'm a typical crazy ginger, I'm not sure what they mean?! I lurrrrvvveeee to run around and play lots and lots. If I see one of those pesky flies I will have them! My fave trick is jumping onto the hoomans as they open my pen, I love a cuddle but only when I've finished exploring. They are a little worried I will get myself into trouble out in the big wide world as I can be a bit daft so I need a super safe place and garden to call home, no busy roads! I have lived with children so I don't mind them at all but maybe not too little as I can be a bit rough when I play and I wouldn't went to hurt them. So what are you waiting for?! Pick me!!!
ASHTON (RESERVED)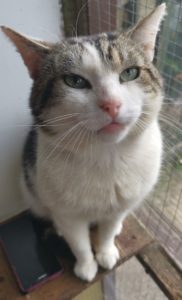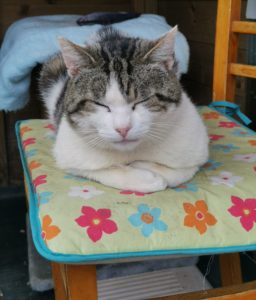 Male
Approximately 7 years old
Needs outdoor access
Family friendly 
Hello there, Ash here! A kind lady brought me here after I was stuck fending for myself for a long time! It's been a bit of a rollercoaster, them places where they poke and prod you took all the teeth I had left cause they said they were rotten! If I'm honest, I do feel much better for it and it doesn't stop me eating at all, I lurve my food! I'm a sweet boy if I do say so myself. The volunteers say I'm super chilled and take everything in my stride. I do shout at them occasionally if they are late on the food or fusses but you have to keep them in line! I'm pretty good with little people. I don't mind other cats but do like to be the top kitty so might be best with a sister or younger brother who can look up to me. Adopt me purrlease!
KALOO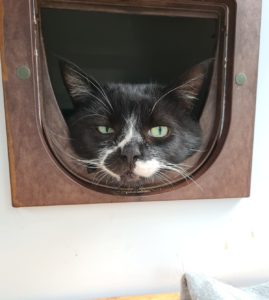 Male
3 years old
Needs outdoor access
Needs to be only cat
Meow meow, I'm Kaloo and I came here as my family were moving and couldn't take me with them. This made me sad and I was not happy for quite a while after arriving here. I have realised the hoomans here are quite nice though and bring me food and treats. I let them have fusses now I trust them. I do have to shout at them sometimes to make sure they hear me and keep them on their toes! I'm not so keen on other cats and will let them know if they pass my pen. I'd love to be able to play out in my new home too. I hope to be picked soon!
WESLEY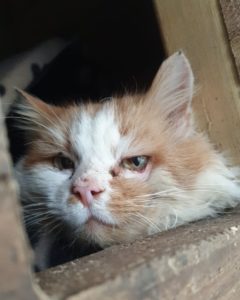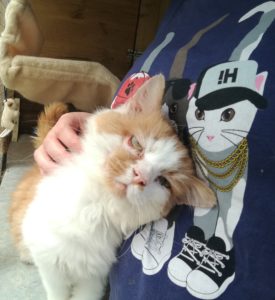 Male
Approximately 7 years old
FIV+
Needs a cat savvy owner
Would love a catio/secure garden
Helllooooo, I'm Wesley or Wez for short. I came here after spending around 6 years living on the streets. I'm a bit battered as you can see. I have my war wounds from my street days. I was scared, tired and poorly when I came but Pawprints got me to the vets and sorted me out. Sadly I'm FIV+ so I'm not allowed to play out where other cats are because if I got into a fight I could pass it on through a bite wound but if I could find the purrfect hooman who would make me a catio or secure garden so I still get to be able to play out a little I would love you furever! Other than the FIV I'm in good health and have put on a few pounds whilst I've been here! More to love! I'm a big fusspot now and I'd love a forever home. I know I'm not going to be everyone's cup of tea but I really hope there is someone out there to love me for me. Is it you?
BASIL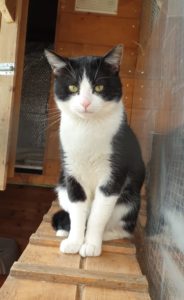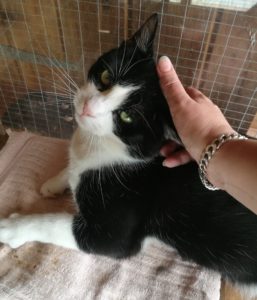 Male
Approx 3 years old
Cannot be homed with young children
Needs outdoor access.
Hi everyone, I'm Basil. I came here after I'd been living on the streets for a while. I'm a scaredy cat at first, I learned on the streets to be cautious and it took me a long time to realise that fusses are actually really good but I love them now once I know and trust you! I really need a hooman that sees my purrtential and is willing to be patient with me. I am open to a feline friend or two to help me be more cat too! Could you give me a chance?
CHOPS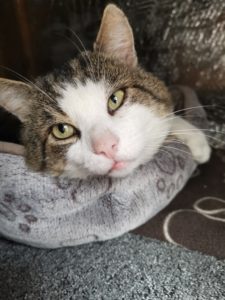 Male
Approx 6 years old
Needs outdoor access
Hello, I'm Chops  and I was rescued from the streets after giving the hoomans a bit of a run around. I didn't know I needed help, I had at least 6 good food joints keeping me in supply but the hoomans said I was crossing busy roads to get to them and they didn't want me to get hurt so I found myself here. I like it here, I don't have to cross any roads and have food on tap. I even give the hoomans my well practiced cute meow from my bed to try to get them to bring the food to me. It works sometimes! I'm a little timid at first and need a home where you've had cats before so will be patient to let me come around at my pace. I might be OK with older children. I'm not sure how I feel about other cats, I am used to being the top cat but look at these looks, how could I not be?! So what are you waiting for? Pick me!
WINSTON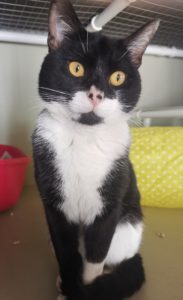 Male
1 year old
Family friendly 
Needs outdoor access
Winston here! I'm new to the rescue and just finding my paws but the hoomans say I'm friendly and like to have chat. I have been used to living with school age children and like to have fusses. I would like to play out in my new home. I've not lived with other cats so I'm not sure how I feel about that, I think I'd prefer to be the only kitty purrlease.
LUNA (RESERVED)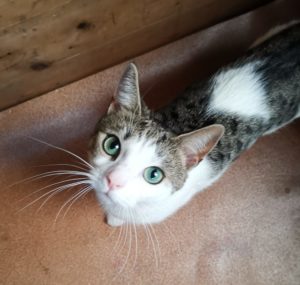 Female 
1 year old
Can be homed with Lagatha
Needs outdoor access
Hiii, Luna here! I came here with my 2 house friends Lagatha and Kitty. I'm the youngest out of us all and am super cute as you can see! I'm a little nervous around new people to start with but love to play so that wins me round! I love treats too, yes please! Lagatha and I get along well so we could home together or seperate. I think Kitty isn't so keen on either of us, she hisses at me when I come too close! I need the be able to play out so a nice garden purrlease!
LAGATHA (RESERVED)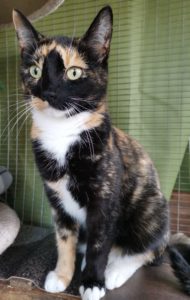 Female
Almost 3 years old
Can be homed with Luna 
Needs outdoor access
Hiii, I'm Lagatha, I know, strange name but apparently it's after a female viking and i am definitely small and mighty! I'm a confident girl and love a fuss! I take everything in my stride. I came here with Luna and Kitty. Luna and I get on well so could come as a pair if you liked, I think Kitty would rather have her own space though away from us youngsters! I need to be able to play out so a nice garden purrlease!
KITTY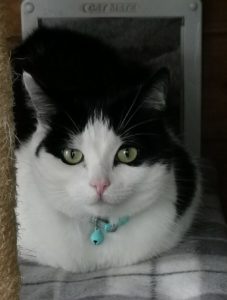 Female
7 years old
Needs outdoor access 
Ideally only cat
Hey, I'm Kitty and I arrived here with Lagatha and Luna after her mum became poorly. The hoomans have been trying to get to know me better but I've been in hiding mostly here, I'm not so keen on being couped up with these two! The hoomans feel I would prefer to be an only princess and I think they are right, I don't mind the others if I have to but prefer my own space. I'm a sweet girl but finding rescue life quite stressful so the sooner I can be out of here the better! So can you purrlease break me out?!
SKYE, KUBA & PIPPA *Special & experienced home needed*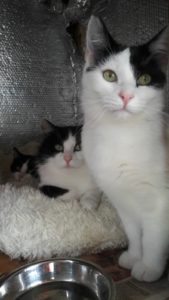 Skye – Approx 3-4 years old
Kuba & Pippa – Approx 2.5 years old
Outdoor access required
Our beautiful semi-feral family are needing a special and experienced home. Skye came to us with her 2 kittens Kuba and Pippa. All are semi-feral. Kuba (front) is the most friendly followed by Skye who has come on leaps and bounds this past year and then 'the lesser spotted' Pippa who makes an appearance for food and fusses on her terms. They need a home with people who have previous experience with semi-feral or feral cats and who are willing to commit at least 6 months to helping settle these three in. They are not looking for a solely outdoor home, they deserve to enjoy home comforts. They do love to play out though! They are a very bonded family and we have tried to separate them in the past but they have become very distressed so they need to be re-homed together.
SEEN ANYONE YOU LIKE? PLEASE GET IN TOUCH WITH US VIA OUR ADOPTION ENQUIRY FORM AND SOMEONE WILL BE IN TOUCH SHORTLY TO ARRANGE A VISIT TO MEET OUR RESIDENTS
KITTENS
We are a rescue that mainly focuses on adult cats. However, sometimes we do have kittens looking for homes which will be stated on this page. We only home kittens once they've reached the age of 12 weeks and we never home a kitten under the age of 8 weeks as it goes against the animal welfare act, kittens are far too young to be away from their mother at such an age. When adopting a kitten from Pawprints you enter into an agreement that the kitten will be neutered/spayed when it is old enough (usually around 4-6 months or when it has reached 2kg) and we will be informed by our vets when this has taken place.
Adoption Process
We are unable to home cats to anyone living on or very near to a main road or railway line, this is for their own safety. All cats are home checked (not as scary as it sounds we promise!). We appreciate that not everyone likes the idea of a home check, however, we are responsible for the welfare of the cats in our care and it would be irresponsible of us to let them go without knowing where they are going. We are not there to judge you or your decor! We are there simply to check that everything is OK, that you don't live on a main road and that you know everything you need to know to get your cat settled in.
We will ask for your address initially so we can look up your home to make sure it is in a suitable location. If we believe it to be unsuitable, we will contact you to let you know. All final decisions are made by the rescue owner. A home check will be performed when we drop off the cat you would like to adopt to you, if everything is OK we will ask you to fill out an adoption form that signs the cat over to you. Up until this point we do have the right not to hand the cat over to you, however this only happens in very exceptional circumstances when we believe there is a risk to the cat/kitten and is very rare.
Adoption Fees
All cats adopted from Pawprints Cat Rescue come with 5 weeks free insurance from Agria Pet Insurance and have been health checked by a vet, neutered, vaccinated, microchipped and have received treatment for fleas, ticks and worms. The adoption fee is to cover part of the cost. This basic care alone will cost us upwards of £150 and that's before we add in costs of food, litter and any additional vet care. We ask for an adoption fee of £75 for adult cats and £80 for kittens, which is just a fraction of what we have paid out. This enables us to carry on our work of rescuing unwanted and abandoned cats.