Interested in adopting?
PLEASE NOTE: We are open via appointment ONLY. This is so we do not have multiple people turning up to see the cats at the same time and we can keep to social distancing rules. If you turn up without an appointment you will be turned away. 
We have plenty of cats and kittens in our care who are sat waiting for their forever home to come along. From our kittens to our more senior cats, we've got plenty who'd love to say hello to you.
If you would like to enquire about any of our cats please fill out our adoption enquiry form and someone will be in touch with you to arrange a visit. Please note we do not currently have any kittens.
If you would like to visit the rescue to meet our cats you are more than welcome to do so, please do get in touch first so we can arrange for someone to greet you and show you around.
MEET OUR RESIDENTS
BOOTS AND SOCKS

Hi, I'm Boots and this is Socks next to me. We are two very handsome boys, if we do say so ourselves! We are about 2 years old (we think!) and we are the best of friends so we really must be homed together. We are a bit shy untilwe get to know you and are struggling with rescue life, but we are slowly getting used to it and we let some of the more regular volunteers give us fusses now. We really love our fusses with people we know. We need a really special home with people who are kind enough to help us come out of our shells. We will need access to the outdoors in our new home. Could you be the special person we are looking for?
ROBYN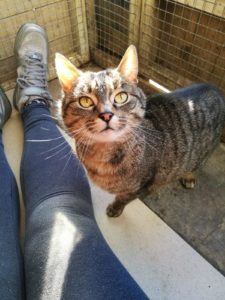 Hi there! I'm newcomer Robyn. I was found sleeping on a pile of leaves under an abandoned car. I was very very cold & a bit poorly, but Pawprints rescued me and are making me all better. I'm a lovely middle aged kitty. I'm a bit feisty and a bit of a girl boss! I like to do things on my own terms. I will need an experienced home who can handle my feisty side. I will need access to the outdoors in my new home.  Could you give a nice warm home to a princess like me?
IZZY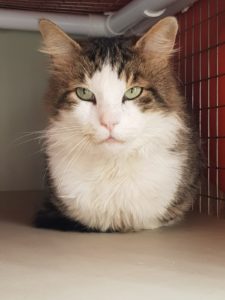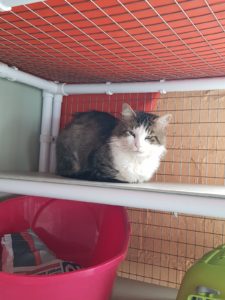 Hi everyone, I'm Izzy. I came to Pawprints after my owners didn't want me anymore. I'm a 5 year old male and a little scared at the moment. I've only just arrived at Pawprints so I'm still getting to know everyone here but my neighbour Amber tells me they are going to find me a forever home! Sounds good to me. I will need access to the outdoors in my new home.  If you'd like to come visit me please fill in the adoption enquiry form at the bottom of the page.
MADISON (reserved)
Hi there! I'm Madison I'm a lovely princess who likes fusses & strokes. I'm 8 years old & I came here after my owner fell ill & could no longer take care of me. I'd lived there my whole life but now I am looking for my second chance. I'm such a super sweet girl who's quickly won over the volunteers here (naturally). I came in with my housemate Poppy below & we could go together if you wanted 2 of us. She's super sweet too! I will need access to the outdoors in my new home.
POPPY (reserved)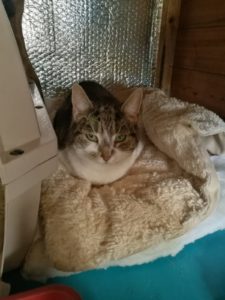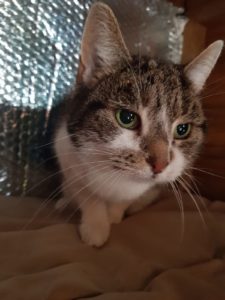 Hiya! I'm Poppy. I came here to the rescue after my owner fell ill & could no longer care for me. I'm a lovely sweet girl. I came here with Madison & although I'm not quite the show off she is I am lovely & friendly. I'm 9 years old & I'm looking for my second chance. I could go with Madison if you wanted a pair. I will need access to the outdoors in my new home.
BETSY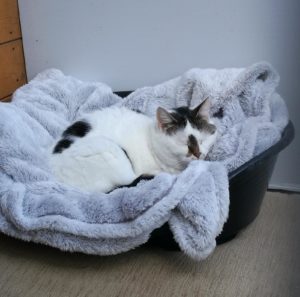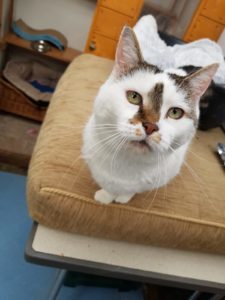 Hello there I'm Betsy! I arrived here after my owner moved & couldn't take me with her so I'm looking for another chance with a furrever home.
Now to my list of requests… I would like access to a nice garden, no roads nearby, you need to have been trained by another cat in the past to accept that cats rule & I'm the boss and no other pets please like I said I'm the boss! If you can give me that I will be your BFF for life.
CAPTAIN TOM (reserved)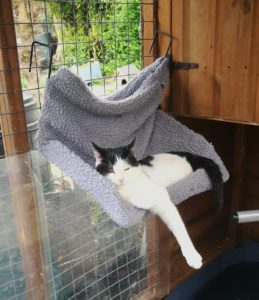 Hi everyone, I'm Captain Tom. I'm a new arrival at the rescue I found the rescue all by myself. I'd been wandering the streets round here as a stray and I got word that they helped us cats here so I packed my bags and got myself a spot. It's good here but there are a lot of other cats here, and I mean a lot and I'd like a home instead please. I'm a lovely friendly boy, I'm fine with other cats and I'm a perfect all rounder. I will need access to the outdoors in my new home.  Please fill out the adoption enquiry form and the volunteers will get in touch when I say they are allowed to stop fussing me. I will await your visit from my hammock.
NOTE FROM THE HUMANS: Captain Tom will hopefully be available at the end of May/June. We are currently waiting for our vets to resume neutering operations so he can have his pom poms off (sorry Tom!)
APPLE (reserved)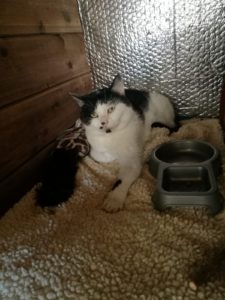 Hi there, I'm Apple. I'm a lovely 5 year old girl. I'm new here and I'm just sussing it out. I came here with my housemate Shyne, we aren't bothered with each other so happy to go our separate ways. Shyne got his home recently anyway so it's just me know. I'm fine with other cats and dogs and I used to live with children too. I might like to be a princess on my own but I suppose I could share. I would really really love a forever home with a nice family. I will need access to the outdoors in my new home. Could you give another chance to a girl like me?
AMBER & EBONY (RESERVED)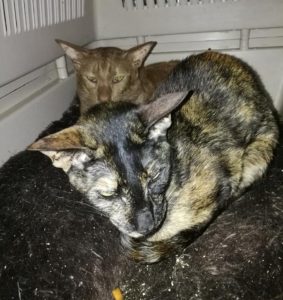 Amber and Ebony are a mum and daughter pair who came to Pawprints along with Madison and Poppy after their owners health declined and he could no longer take care of them. These 2 are Pedigree Orientals. Unfortunately Ebony had been used for breeding and was quite ill when she came to us, however our vets have done a wonderful job of helping her get better and they are now both spayed. They need an extra special home with people who understand (or are willing to learn) how to look after pedigree breeds including their dietary needs. They are both very shy, so will need people who are willing to give them time to settle in (this could take months). They would not be suited to a home with children, but could live with other cats. If you are interested in these 2 please fill out the adoption enquiry form and we will get in touch to discuss their needs with you.
SKYE, PIPPA AND KUBA *Extra special home needed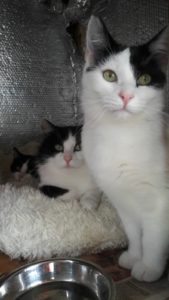 Our beautiful semi feral family are needing a special and experienced home. Skye came to us with her 2 kittens Kuba and Pippa. Both Skye and Pippa are semi feral and Pippa does not like to be touched. Kuba (front) is a friendly chap once you get to know him and gain his trust. They need a home with people who have previous experience with semi feral or feral cats and who are willing to commit at least 6 months to helping settle these three in. They are a very bonded family and we have tried to separate them in the past but they have become very distressed so they need to be re homed together.
FREDDIE *Extra special home needed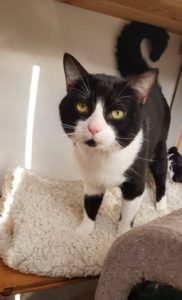 Meet Freddie! This handsome boy is very special. Freddie came to us after his previous owner moved away. He was in a bit of a state. He had terrible worms, fleas, wasn't vaccinated and had never been neutered. We got him all sorted out at our vets and we worked on finding him a forever home. Unfortunately in early 2020 one of our volunteers found Freddie in his pen struggling to breathe and dragging his back leg. We immediately rushed him to our vets who treated him, it was touch and go for a while, but our vets did amazing work, monitored Freddie 24/7 and had him in an oxygen tent to help him. After a heart scan and several test it was discovered that Freddie had Hypertrophic Cardiomyopathy (HCM). Which is a condition where a portion of the heart becomes thickened. Freddie takes a couple of different meds, but he's quite happy to chomp them down if they are mixed with fresh chicken! Freddie is only 4 year old and hasn't had much of a life so far. His condition will mean he is not a cat that will live to see his elderly years, but our boy has a good few years and more in him as long as his condition is carefully managed.
Freddie's care is expensive and we appreciate that this could be difficult for even the most well meaning of people. So we are willing to pay for his vet treatment, however you would need to be able to get him to Gatehouse Vets to see our vet Terry as Gatehouse provide us with a significant discount for treatment.
Freddie is an absolute sweetheart and is a secret favourite among everyone at Pawprints. Even the vets love him! While we do our absolute best for Freddie we know that a rescue is not the best place for a cat long term, Freddie is already getting stressed and can be occasionally be grumpy because he wants a home of his own and doesn't understand why he can't have one.
Taking on a cat like Freddie is a big commitment but you will have the reward of knowing you get to give him the best years of his life. If you would like to know more about Freddie then please get in touch via our adoption enquiry form below and we can tell you a bit more about him and his condition and even put you in touch with his vets.
SEEN ANYONE YOU LIKE? PLEASE GET IN TOUCH WITH US VIA OUR ADOPTION ENQUIRY FORM AND SOMEONE WILL BE IN TOUCH SHORTLY TO ARRANGE A VISIT TO MEET OUR RESIDENTS
KITTENS
UPDATE: We currently have NO kittens in.
We are a rescue that mainly focuses on adult cats and usually only have one lot of kittens in at a time. However, sometimes we do have kittens looking for homes which will be stated on this page. We only home kittens once they've reached the age of 12 weeks and we never home a kitten under the age of 8 weeks as it goes against the animal welfare act, kittens are far too young to be away from their mother at such an age. When adopting a kitten from Pawprints you enter into an agreement that the kitten will be neutered/spayed when it is old enough (usually around 4-6 months or when it has reached 2kg) and we will be informed by our vets when this has taken place.
Adoption Process
We are unable to home cats to anyone living on or very near to a main road or railway line, this is for their own safety. All cats are home checked (not as scary as it sounds we promise!). We appreciate that not everyone likes the idea of a home check, however, we are responsible for the welfare of the cats in our care and it would be irresponsible of us to let them go without knowing where they are going. We are not there to judge you or your decor! We are there simply to check that everything is OK, that you don't live on a main road and that you know everything you need to know to get your cat settled in.
We will ask for your address initially so we can look up your home to make sure it is in a suitable location. If we believe it to be unsuitable, we will contact you to let you know. All final decisions are made by the rescue owner. A home check will be performed when we drop off the cat you would like to adopt to you, if everything is OK we will ask you to fill out an adoption form that signs the cat over to you. Up until this point we do have the right not to hand the cat over to you, however this only happens in very exceptional circumstances when we believe there is a risk to the cat/kitten and is very rare.
Adoption Fees
All cats adopted from Pawprints Cat Rescue come with 5 weeks free insurance from Agria Pet Insurance and have been health checked by a vet, neutered, vaccinated, microchipped and have received treatment for fleas, ticks and worms. The adoption fee is to cover part of the cost. This basic care alone will cost us upwards of £150 and that's before we add in costs of food, litter and any additional vet care. We ask for an adoption fee of £65 for adult cats and £80 for kittens, which is just a fraction of what we have paid out. This enables us to carry on our work of rescuing unwanted and abandoned cats.