Interested in adopting?
COVID-19: We are still open through the current lockdown as animal rescues have been listed as an essential service. You can still visit the cats by APPOINTMENT ONLY. This is to ensure we can keep social distance measures in place. Please wear a mask when visiting, use the hand gel provided and keep 2m away from the person showing you around. If you are bringing members of your household with you to your appointment please let us know before your arrival. DO NOT VISIT THE RESCUE IF YOU HAVE HAD SYMPTOMS OF COVID-19 IN THE LAST 14 DAYS. IF YOU TEST POSITIVE FOR COVID-19 WITHIN 14 DAYS AFTER YOUR VISIT PLEASE CONTACT US IMMEDIATELY.
If you would like to enquire about any of our cats please fill out our adoption enquiry form and someone will be in touch with you for a chat. Please keep in mind that we are run entirely by volunteers who do this around full time jobs and families, but we will try to get back to you as quickly as possible.
MEET OUR RESIDENTS
WESLEY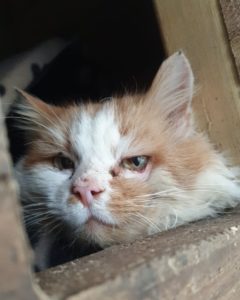 Male
Approximately 7 years old
FIV+
Hi, I'm Wesley. I came here after spend 6 years living on the streets. I'm a bit battered as you can see. I have my war wounds from my street days. I was scared, tired & poorly when I came but Pawprints got me to the vets & saved me. Sadly I have FIV so I do have to be an indoor cat because FIV can spread to other cats through bite wounds but if I could find the purrfect hooman who would make me a catio or secure garden so I still get my fresh air I will love you furever! I do have to be an only cat for the same reason. I'm a big fusspot now I've got used to it here & I'd love a forever home. I've never had one. I know I'm a lot to take on with my battered face & my FIV & I know I'm not the youngest, but I really really want someone to love. Could you help me?
NESTA AND SHEBA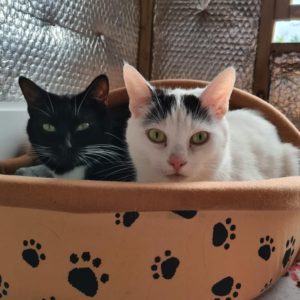 Females
18 months old
Sisters
Hi, we are Nesta and Sheba. We came here after our owner could no longer care for us. We are 18 months old and must be re homed together. We are sisters and are very close. We are big fuss posts and love tickles and strokes. We can be timid and hiss when we fist meet you but it's just because we don't know you yet. Give us a few minutes and we will see you aren't scary. We are two absolute sweethearts if we do say so ourselves and we would love a second chance in a nice home. We have been indoor cats but we could go outside if you had a nice safe garden.
DUKE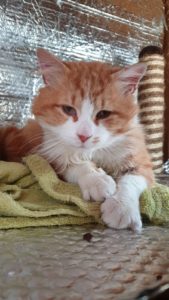 Male
Approx 7 years old.
Needs outdoor access
Hi I'm Duke. I came here after I was found in a back garden living as a stray. I was very dirty and covered in matts. Fortunately Pawprints came out to save me and got me help. I sadly had to have some of my beautiful fur off because the matts had got so bad they made me sore, so when you meet me I may have a big bald patch but it's growing back nicely. I was very scared when I came here & hissed at everyone but the volunteers have been working on my social skills & now I love fuss time. I'm a big softie but you have to get to know me first, can't be too careful. I would really love a forever home if you think you could give a gorgeous boy like me a chance.
ALBIE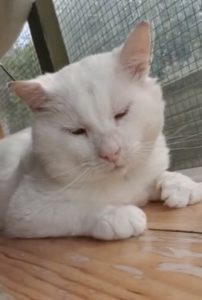 Male
Approximately 8-10 years old.
FIV+ 
Indoor only home
Cannot be homed with other pets.
Hi everyone, I'm Albie. I'm about 8-10 years old & I came here after I was living as a stray for over a year. Fortunately a kind lady in the area rang Pawprints & they came out to rescue me. I came here very battered & with a poorly mouth. I had to go to the dreaded vets & have a dental operation which was very scary. I'm feeling much better now though. I do have FIV which can be passed onto other cats through deep bite wounds & it means I don't have as much immunity as a non FIV cat so I need to be an indoor cat. I don't think I'll mind though as I'm quite happy to see the back of my street days. I can be very shy when I meet you but once you have my trust I'm a softie. Sadly I will get overlooked because of my FIV & age but I'm really hoping someone will love me anyway. If you think you could give me a second chance please get in touch with the humans.
KLAUDIA (RESERVED)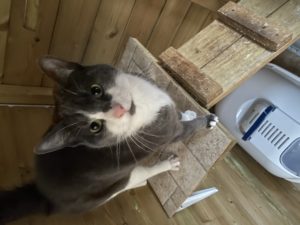 Female
2 years old
Cannot be re homed with other cats or dogs
Cannot be homed with children
Hi everyone, I'm Klaudia. I came here after my owners could no longer keep me. I was very stressed at first but I've decided my foster mum isn't so bad really, she actually gives good fusses. I'm a very sweet girl, although I can get a little stressed when I first meet you it's just because I'm not used to meeting new people. I'm really just super lovely. The only requirement I have is no other cats. I don't like them & would much prefer to be a princess all by myself.
BASIL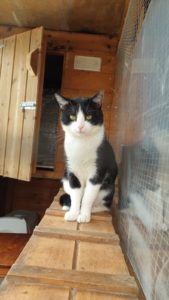 Male
Approx 3 years old
Cannot be homed with children
Needs outdoor access.
Hi everyone I'm Basil. I came here after I'd been living on the streets for a while. I'm very scared but I have been taking treats from the volunteers & coming out to say hello. I'm a lovely boy but I'm very misunderstood because I hiss when I see new people. It's not because I'm mean, I just don't know you yet & I learned on the streets to be cautious. I'm what they call a project cat. It means I really need a family that sees my potential and is willing to be patient with me. Sadly cats like me get overlooked for the friendly pretty ones, but if you'd at least consider me I'd be so happy. I just need a chance.
EDWARD & LUCY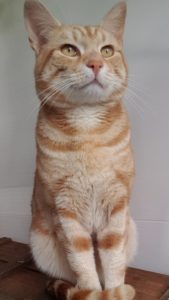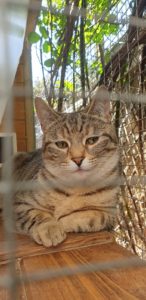 Brother & Sister
4 years old
Need outdoor access
Friendly
Hi, we are Edward & Lucy. Sadly our owner became too unwell to look after us, so the people at Pawprints came to our rescue. As you can see we are absolutely gorgeous. We are very friendly & love all our fusses. We are very bonded so we must have a home together. We really are the most perfect pair. Could you give us a second chance?
JASPER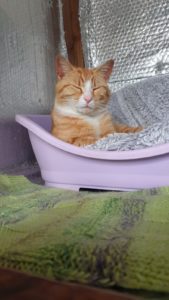 Male
Approximately 18 months.
Needs Outdoor Access
Friendly
Hi everyone, I'm Jasper. I was living as a stray in the middle of Bradford. I'd set up a spot for myself underneath a building & was living in an old water tank. Fortunately a member of the public spotted me & Pawprints came to my rescue. I'm about 18 months old & a lovely & friendly boy. I can be a little nervous when I meet new people but I'm quickly won over with tickles under the chin. I love my fusses & I'm an absolute sweetheart. I will need to have access to a safe garden. I think I'd be ok with sensible older children & I may be ok with other cats with the right introductions.
SKYE, KUBA & PIPPA *Special & experienced home needed*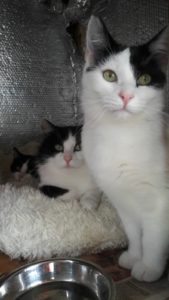 Skye – Approx 3-4 years old
Kuba & Pippa – Approx 2.5 years old
Outdoor access required
Our beautiful semi-feral family are needing a special and experienced home. Skye came to us with her 2 kittens Kuba and Pippa. Both Skye and Pippa are semi-feral and Pippa does not like to be touched. Kuba (front) is a friendly chap once you get to know him and gain his trust. They need a home with people who have previous experience with semi-feral or feral cats and who are willing to commit at least 6 months to helping settle these three in. They are a very bonded family and we have tried to separate them in the past but they have become very distressed so they need to be re-homed together.
SEEN ANYONE YOU LIKE? PLEASE GET IN TOUCH WITH US VIA OUR ADOPTION ENQUIRY FORM AND SOMEONE WILL BE IN TOUCH SHORTLY TO ARRANGE A VISIT TO MEET OUR RESIDENTS
KITTENS
We are a rescue that mainly focuses on adult cats and usually only have one lot of kittens in at a time. However, sometimes we do have kittens looking for homes which will be stated on this page. We only home kittens once they've reached the age of 12 weeks and we never home a kitten under the age of 8 weeks as it goes against the animal welfare act, kittens are far too young to be away from their mother at such an age. When adopting a kitten from Pawprints you enter into an agreement that the kitten will be neutered/spayed when it is old enough (usually around 4-6 months or when it has reached 2kg) and we will be informed by our vets when this has taken place.
Adoption Process
We are unable to home cats to anyone living on or very near to a main road or railway line, this is for their own safety. All cats are home checked (not as scary as it sounds we promise!). We appreciate that not everyone likes the idea of a home check, however, we are responsible for the welfare of the cats in our care and it would be irresponsible of us to let them go without knowing where they are going. We are not there to judge you or your decor! We are there simply to check that everything is OK, that you don't live on a main road and that you know everything you need to know to get your cat settled in.
We will ask for your address initially so we can look up your home to make sure it is in a suitable location. If we believe it to be unsuitable, we will contact you to let you know. All final decisions are made by the rescue owner. A home check will be performed when we drop off the cat you would like to adopt to you, if everything is OK we will ask you to fill out an adoption form that signs the cat over to you. Up until this point we do have the right not to hand the cat over to you, however this only happens in very exceptional circumstances when we believe there is a risk to the cat/kitten and is very rare.
Adoption Fees
All cats adopted from Pawprints Cat Rescue come with 5 weeks free insurance from Agria Pet Insurance and have been health checked by a vet, neutered, vaccinated, microchipped and have received treatment for fleas, ticks and worms. The adoption fee is to cover part of the cost. This basic care alone will cost us upwards of £150 and that's before we add in costs of food, litter and any additional vet care. We ask for an adoption fee of £75 for adult cats and £80 for kittens, which is just a fraction of what we have paid out. This enables us to carry on our work of rescuing unwanted and abandoned cats.